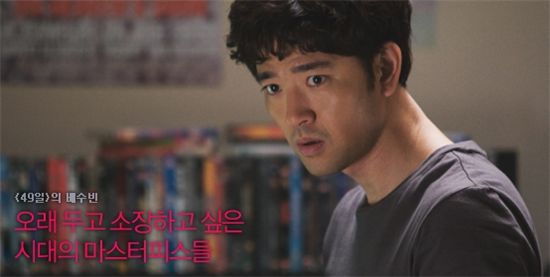 He may look like a sophisticated man from the city but as an interviewee, Bae Soo-bin had a down-to-earth smile which made him seem far from being the Kang Min-ho he played in series "49 Days." And he politely, yet clearly, knew how to speak on the need for single-episode plays and his respect for masterpiece films which is probably why he left a stronger impression when playing the trustworthy assistant in SBS' "The Painter of the Wind," SBS' "Brilliant Legacy" and MBC's "Dong Yi - Jewel in the Crown." It is also why it was unfamiliar for viewers to see him as the hard-to-forgive villain Kang in "49 Days" in which most other characters were understandable and forgivable.
But him playing Kang does not mean he is being deviant. To a passionate actor like him who said, "I like maniac projects but wanted to do something a bit different because I didn't want to fall for just a single type of movies too much," there is always room for him to play a character like Kang. In other words, the sturdy attitude he showed through his roles in "Brilliant Legacy" or "Dong Yi" and virtues that are essential to him playing roles like Kang. That is why his attitude toward the numerous masterpieces in cinema could serve as a clue to the spectrum of acting he will show in the future. Below are Bae's recommendations on masterpieces he wants to keep for a long time.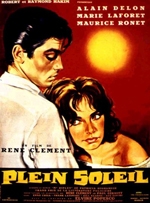 1. "Purple Noon"
1960 | Rene Clement
"It was adapted into film 'The Talented Mr. Ripley' as well but I like 'Purple Noon' better. And it's not just because of the presence of actor Alain Delon. The movie itself is more classy as well. It was shot almost 50 years ago but there's more tension to it and it's more fun. It's not made in the Hollywood style... There's rather a sophistication to it, here and there, and the wardrobe and props don't look awkward at all even till today."
A man with the ability to steal another man's life. And Alain Delon, an actor who is fatally beautiful. The mere fact that these two factors come together is enough to rank "Purple Noon" as the movie with the most attractive villain. So maybe that is why but the final scene, where Ripley (played by Alain Delon) is sunbathing without knowing he has been caught of his crimes, does not give off the sense that justice prevailed but rather leaves ones disappointed over his barely-sustained castle of evil coming to ruins. The interesting thing is that the remake of "The Talented Mr. Ripley" is closer to the original novel.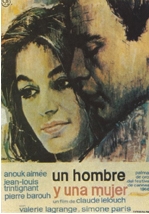 2. "A Man and a Woman"
1966 | Claude Lelounch
"This movie, more than anything, does a great job of telling its story through its imagery. Each and every scene is like a piece of photography. So watching this movie made me feel like I was watching a music video but its story got embedded into my mind very clearly as well. I became so bewitched by the imagery that I didn't analyze the plot or the characters such as Anne (Anouk Aimee) or Jean (Jean-Louis Trintignant). I think this movie is a true masterpiece in that sense."
A woman who has lost her husband from an accident, and a husband who is in pain from his wife having committed suicide from depression, meet one day, talk about their past and become attracted to each other yet at the same time, they have a hard time breaking away from their pasts. Like so, "A Man and a Woman" depicts on the two characters' suffering and the love that heals their suffering switching back and forth between color and black-and-white imagery. The final scene in particular, swapping between scenes to show the man and woman's cars going in different directions but then ending up meeting again, moves the viewer more than the typical happy ending does.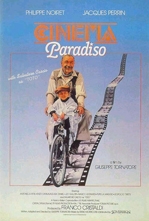 3. "Cinema Paradiso"
1988 | Giuseppe Tornatore
"This is a movie that people love. And it's a very beautiful movie for someone like me whose job is to appear in movies. The movie in itself is sort of an homage to cinema, showing someone who grows through his affection for films then having those films rouse his memories. This movie unravels that aspect of it in a very beautiful way that at the same time, appeals to the general public. I like Third World cinema but also admire movies like this that don't aim to be commercial yet still contain elements that appeal to the public."
Almost everyone who likes movies to a certain extent has probably watched "Cinema Paradiso" which has been shown on television numerous times. Hence there will not be a single scene in it that you are not familiar with; the friendship the young Toto and projectionist Alfredo form through films, Toto and Elena's untimely love and the last scene where he gets moved by a reel containing kissing scenes. The important thing is that even when you watch the movie over, it is still fun and will make you choke with tears at the end. These are what we call masterpieces.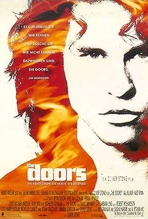 4. "The Doors"
1991 | Oliver Stone
"I like Oliver Stone's movies and 'Doors' is one of my favorites movies. Val Kilmer was amazing in it. He became Jim Morrison. I thought he'd been reincarnated. Not only did they look the same but Kilmer, through his acting, showed Morrison's genius side, rebelliousness and decadent attitude as well. Even how Morrison gradually falters. This is the movie I like best amongst those with a musician as the main character."
Director Oliver Stone, who constantly poised questions about the Vietnam War through his works including "Platoon" and "Born on the Fourth of July," portrayed the generations outside the war, yet not free from the awareness of its crisis through "The Doors." The story of band The Doors and its leader Jim Morrison who became popular for their dreamy performances, pedantic yet poetic lyrics and unique style of muttering them, during times when the equation of 'rock=decadence' was dominant, also seems like an expression of remorse toward the 1968 generation.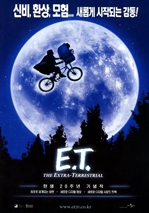 5. "E.T."
1982 | Steven Spielberg
"This is really, truly, an amazing movie. And I think Spielberg is an amazing director as well because I'm sure he didn't shoot 'E.T.' just because he wasn't able to show his own sense of artistic style. I'm sure he wanted to show more of it as well. So I think he made this masterpiece by trying to maintain that to a certain extent while fighting hard to secure public appeal as well. That's why he produced a masterpiece sci-fi pic which moves you even till today."
Steven Spielberg set up DreamWorks in 1994 with Jeffrey Katzenberg and David Geffen. And if a movie could actually be called DreamWorks, it would be because of movies like "E.T." that Spielberg made. Not even the most advanced form of computer graphics would be able to reenact and produce the delight felt when E.T. flies in the night sky with his friends on a bicycle.
※ Any copying, republication or redistribution of 10Asia's content is expressly prohibited without prior consent of 10Asia. Copyright infringement is subject to criminal and civil penalties.
Reporter : Wee Geun-woo eight@Photographer : Chae ki-won ten@Editor : Jessica Kim jesskim@
<ⓒ10Asia All rights reserved>