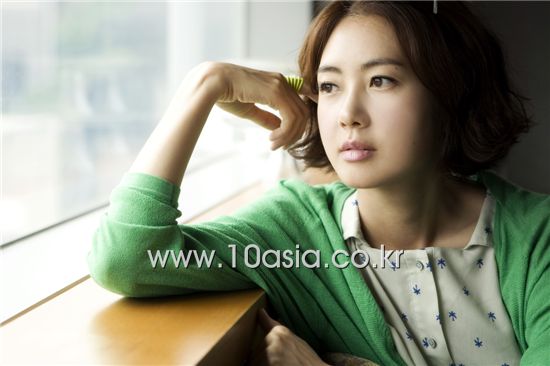 Lee Yo-won [Lee Jin-hyuk/10Asia]
썝蹂몃낫湲 븘씠肄
"You'll ask only about my work right?" An actor will not be able to help feeling disappointed if an interview focuses on his or her personal life. So this is a question an interviewer is often asked ahead of time. Actress Lee Yo-won is one of those celebrities, unwilling to reveal details about her personal life to the point that she cancelled interviews for when she promoted her film "The Recipe" last year. That is why the interviewer was more cautious than anticipating the interview with her but she turned out to be an actress who works hard at her projects. From the very beginning, Lee was someone who did not dwell on popularity or the success of her work nor was she "drawn to characters of similar ages telling pretty love stories." And she had more than enough to say merely with her title as an actress. So with what mindset has she lived during her 14 year career in which she chose to take the difficult paths containing works ranging from "Blue Mist" to "Surgeon Bong Dal Hee" to "Queen Seon-deok" and most recently "49 Days."
10: In your interview for when your film "The Recipe" came out, you said that you'd want to play a cheerful character of your own age next time. So is that how you came to play Song Yi-kyung in "49 Days"?
Lee Yo-won:
I decided to take on the drama after hearing that I'd play a double role and that it would be about being possessed. I actually didn't know much else detail about my character. So in a way I was worried that I'd merely be lending my body for someone else's character but I still thought it could be fun. And I had played a lot of gloomy characters before but never someone who was suffering from depression and was alive yet no different from being dead. That's why I had more fun with the drama. I basically took a risk with it.
10: Having an understanding of Shin Ji-hyun (played by Nam Kyu-ri) and Song Yi-kyung must've been the most important aspect to playing your character since you had to play both at the same time and they changed in very subtle ways over time. How did you go about this in the beginning?
Lee:
I started the show with a rough picture of what they'd be like after reading of their history from the script and trying to imagine things about them because I'm the type that builds on characters as the story develops. I also tried to express even the smallest details about them differently because the two are characters in very different situations and personalities. I actually didn't get Song Yi-kyung at first. That she could be like that just because of a guy. But she'd fallen in love with him after being dependent on him also as a friend and family from when she had been an orphan from a young age so Song Yi-soo (Jung Il-woo) must've been everything to Song Yi-kyung and the reason she lives. That's when I realized that she would've wanted to die when he suddenly died.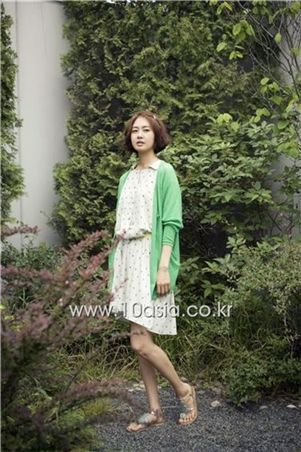 Lee Yo-won [Lee Jin-hyuk/10Asia]
썝蹂몃낫湲 븘씠肄
10: In the first episode of the drama, it was as if we could hear Nam Kyu-ri's voice when you said, "I'm Shin Ji-hyun" after Song Yi-kyung's body gets possessed with Shin's spirit for the first time. Had you been observing Nam's voice and actions?
Lee:
To start with, I knew I wouldn't be able to imitate Nam's voice because I have a medium-low voice and she is high toned. So I didn't do anything on purpose -- it just came out the way it did as I tried to act cheerful. I also told myself that Song Yi-kyung would speak or act like herself as well, even when she's possessed by Shin, because she's still in Song's body. So I tried to express a Song Yi-kyung who is possessed by Shin Ji-hyun. Of course, over time, I came to imitate Nam's gestures and habits more and I too taught her my habits.
10: There were more romantic scenes you had to play with Han-gang (Jo Hyun-jae) and Song Yi-soo in the latter half of the show. And that too not scenes that were sweet but sad because of being laid between life and death. How was it having to pull off that aspect of it at the same time as well?
Lee:
It was emotionally challenging because Song Yi-kyung and Song Yi-soo had truly loved each other a lot but the show started off from how they were in pain so I had to keep imagining of how they were in love. I kept telling myself that I love him and that I only see the good sides to him but I'd have to shoot a lot of romantic scenes with Han-gang as well which confused me at times. On top of that, my character had to keep thinking of the person she loved and live for him which I also had a hard time with because I'm not used to that either. While projects I worked on before were about the main female character achieving her goals with romance on the side, "49 Days" was about life and death and love.
10: Like you just said, you have almost never been in trendy romantic comedies but actresses in their twenties and thirties usually have at least a couple that they've done throughout their acting career. Why is it that you haven't gone down that path?
Lee:
Strangely, I hated trendy dramas when I was in my early twenties. I kept going after the conventional ones. I wanted to work with senior actors and learn how they can act so well... I wasn't drawn to characters of similar ages telling pretty love stories.
10: Well you were put in a different position this time -- working with actors your age or those that are younger than you instead of learning from older actors. How was the experience for you?
Lee:
I did have a hard time in certain ways because it was my first time doing so. For example, you don't act alone, you have to have chemistry with your scene partner so when I worked with more senior actors, all I had to do was do a good job with my part since they are at a level where their acting has been perfected. But I couldn't be under the same mindset for when I work with younger actors. Then again, I'm not the very friendly type so what I did instead was to try to draw out as much as I could from them by making the atmosphere at comfortable as I could. I let them try or do what they wanted to. This is why my juniors thank me and say I'm a good senior to them, no other reason.
※ Any copying, republication or redistribution of 10Asia's content is expressly prohibited without prior consent of 10Asia. Copyright infringement is subject to criminal and civil penalties.
Reporter : Lee Ga-on Editor : Jessica Kim jesskim@, Lee Ji-Hye seven@
<ⓒ10Asia All rights reserved>