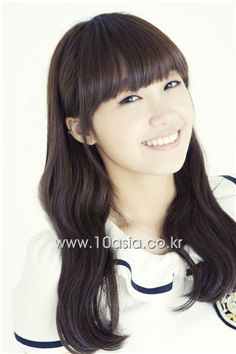 Jung Eun-ji [Lee Jin-hyuk/10Asia]
My name is
Jeong Eun-ji.
August 18, 1993
is when I was born, in Busan. I have an eight year younger brother.
I'm attending Hye-hwa Girls' High School in Busan.
But school is far away so I almost never go now although I'm planning to go for my final exams.
I'm the main vocalist of A PINK and the last member to join the group.
When I was young, I used to think singer-actress Lee Jung-hyun was great so I'd go around class singing her songs. It was to the extent that people in our neighborhood said I'll become a singer when I grow up.
But one day,
I found about vocal trainers. It seemed great that they teach singers to sing and that all they need to do is sing, without minding the public's response.
My mom often scolds me
for looking like a girl but acting like a boy. She taught me how to peel an apple and do household chores so that my in-laws wouldn't find fault of me but I actually attended a taekwondo academy without letting my mom know about it and I briefly dreamt of becoming a detective. A detective who catches criminals!
I'm not shy.
When we shot our music video, I tried to walk as feminine as possible but it felt so awkward that I wasn't walking properly and was making sounds while trying to put on a sweet smile so BEAST's Gi-kwang said I'm really funny. I wonder what the image is that people have of me. (laugh)
I used to think that whatever you wear
is clothing. When I lived in Busan, I used to wear dark-colored straight leg jeans with a hoodie and a black Northface vest on top of that. And there are so many people that dress well at the broadcasters that I feel embarrassed because it feels like I'm wearing a mere piece of a cloth.
The president of our agency
bought all of us steak as a gift for children's day. It was the first time I ate steak at VIPS and it was great.
I want to sing for the rest of my life.
I saw that singer Yim Jae-beum makes people cry on MBC's singing competition "I'm a Singer." I want to become a singer like him as well -- someone that people can sympathize with.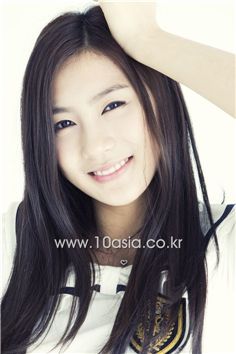 Oh Ha-young [Lee Jin-hyuk/10Asia]
My name is
Oh Ha-young.
July 19, 1996
is when I was born. I'm a senior at Shinwol Middle School. I haven't even been taught how to do quadratic equations yet.
Since I was young
it's been my dream to be a singer but I never actively went to auditions until my first year in middle school when I applied online and then went in for an actual audition when I passed the first round. That's how I became a trainee.
I'm a single child
so I become bored and lonely quite often. It's even become a habit of mine to talk with dolls.
But living with the members of my group
is great because I have six older sisters now. Everybody is so different that it's fun just looking at their rooms.
Everyone is having a hard time
dieting. We can't eat meat and eating just fruit and vegetables all the time so even people around us are calling us goats. (laugh)
We all cry easily
so after wrapping up a fan autograph session in Cheongju and Busan, the hometowns of Cho-rong and Eun-ji, respectively, we all huddled around and cried. I think it was because they were sad from having to leave after seeing their friends and family for the first time in a while. We only need one person to start crying to get everyone else going as well.
I'm the youngest of the group
but I've become the tallest. I'm 169 centimeters now and I don't like being tall. I wish I was the small and dainty type that would make men want to protect me...
My ideal man used to be child actor Wang Suk-hyun.
I like the somehow... innocent, pure and cheerful vibe about him. But it's not like I'm into younger guys. I would definitely prefer a guy that's older than me. By the way, I recently met Roh Hong-chul and he was so amazing that my ideal man has changed.
I want to become a woman with a certain aura.
Not someone who is hard to approach but someone who gives off the vibe that they talk with their eyes. I also want to talk less than I do now. (laugh)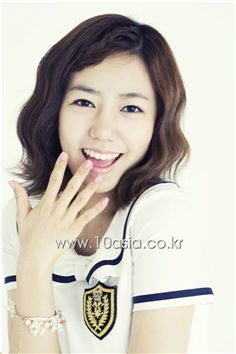 Kim Nam-joo [Lee Jin-hyuk/10Asia]
My name is
Kim Nam-joo.
I was born on April 15, 1995
and am in my first year at School of Performing Arts Seoul. f(x) member Sulli and miss A's Suzy attend our school as well.
The difference between middle school and high school students is that...
Hmm... I can't really tell but I think I gain weight from eating after entering high school. I used to be able to eat whatever I want at night but I can't do that anymore.
When I was seven,
my mother sent me to a dance academy. At first I didn't understand why I had to learn to dance but I gradually became more interested and I came to enjoy singing and dancing. That's why I auditioned for our agency at the end of my second year in middle school.
I've been told a lot that I look like CNBLUE member Lee Jung-shin.
I'm a girl so being told I look like a guy was a bit... But then again he's so pretty as well. I acknowledged the fact that I look like him after even my cellphone app said I resembled him.
I can finish
a whole pan of pizza by myself. Oh, but not large. Regular. But spaghetti is a must when the pizza is regular sized. (laugh)
We all got rid of our cellphones
because we all wanted to focus on practicing. I borrow my manager's phone if I want to talk to my mom. And I recently was given a phone on promotion but I haven't signed a contract for it. We've promised to start using cellphones after we place No. 1 on a music show of a public broadcaster. We're all working really hard so hopefully that day will come soon?
I don't know if it's because I'm a single child but I like to act coquettish.
And when I do, I overdo it on purpose.
I want to become a woman
who is a professional who tries her best at her work but is usually easy going, cute and loveable.
※ Any copying, republication or redistribution of 10Asia's content is expressly prohibited without prior consent of 10Asia. Copyright infringement is subject to criminal and civil penalties.
Reporter : Hwang Hyo-jin seventeen@Photographer : Lee Jin-hyuk eleven@Editor : Jessica Kim jesskim@, Jang Kyung-Jin three@
<ⓒ10Asia All rights reserved>