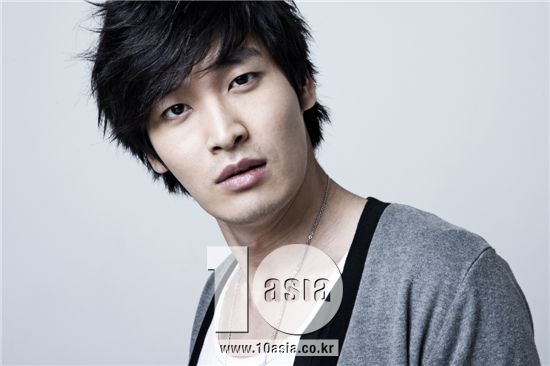 Actor Jung Gyu-woon [Choi Ji-eun/10Asia]
"The director kept giving me scenes that had me running all the time rather than saying lines so I told him that maybe the drama centers a bit too much on just the main leads. And he replied, 'But Gyu-woon, you are one of those leads.'"
Actor Jung Gyu-woon started his interview by jokingly describing the hardships he faced while playing an inspector in his previous medical suspense drama "Sign" (SBS, 2011) aired last February where he did not get even a moment of rest from running and chasing in most of his scenes. But if you look back on his career, that is how things have always been for him. Not only as inspector Choi Yi-han in "Sign," but also as judo fighter Park Ji-heon in "Dr. Champ" (SBS, 2010) who worked hard to become the final contestant for the Olympic games, Baek Gang-ho in "Love You Thousand Times" (SBS, 2009) who went all out to protect his lover from ill fate and as Cha Dong-woo in "Woman of the Sun" (KBS, 2008) who beared with an excruciating heartache. He was always the character who went heads on to confront the obstacle that stood in his way. That was how he has spent his twenties, playing no tricks whatsoever, and it has all been captured on the TV screen.
It was the same for Jung outside the screen as well, who only went straightforward, without taking any detours. Ever since 2008 when he took two contrasting roles the same year -- one as a young lunatic conglomerate in drama "La Dolce Vita" (2008) and the calm and patient Cha Dong-woo in "Woman of the Sun," Jung took on a new project as soon as he was done with the existing one. But maintaining his pace while looking around was his way of preparing for his next step forward. And after his such efforts to land good roles, he knocked on people's hearts by playing the main leads in dramas such as "Dr. Champ" and "Sign." Here are the songs that Jung, the restless runner, recommended to us based on what he listens to loudly in his car when on his way from one filming location to another.

1. Black Eyed Peas' "Invasion of Boom Boom Pow - Megamix" [EP]
The first album Jung recommended was a remix album titled "Invasion of Boom Boom Pow - Megamix [EP]" composed of remixes of the songs of hit rock band Black Eyed Peas. Amongst the tracks, Jung picked 'Boom Boom Boom (DJ Ammo/Poet Named Life Megamix)' as his favorite. "The first time I listened to it was in the movie theater. It was the ending theme song to the film G.I. Joe. I remember thinking, 'Hey, this is my style' and remained seated until the song ended. There are other great remix songs but I liked this best due to my preference in exciting music." Jung added that he listens to it particularly when he is working out and just like he said, this music which doubled the sounds of base and beat from its original piece, does an excellent job of pumping up one's adrenaline.

2. Cagedbaby's "Hello There" [Single]
Jung who recommended British musician DJ Cagedbaby's 2006 single "Hello There" reminisced on the first time he heard the remix version of the same song "Hello There (Preset Remix)." "That was the first time I realized that you could feel that a song is charismatic," said Jung. "I came across the song by chance while searching through a list of music. I didn't know much about the piece back then but the voice alone was enough to take No. 1 place on my playlist for quite some time." Cagedbaby, who recently came to Korea to attend a local automobile showcase, is one of the next-generation DJs from the United Kingdom who pioneered his own style of music consisting of a techno beat based on electronica and Euro-pop, highlighting on synthesizer sounds. There is something in his husky low-tone voice which flows across his unique music, that manages to capture people's heart.

3. Justice "Justice"
To quote what Jung said -- "I would like to pick them as the best electronica DJ right now" -- electronica duo Justice is that good, recognized as the master of electronica music even in his homeland of France, the very birth place of the genre. When listening to his music for the first time, one will become overwhelmed by how the sound scape fills up the space but when listening to it repeatedly, one will begin to realize that its elaborately designed noise and the rhythm of the funky base are what supports the song's structure. Jung recommends the track "Genesis" in particular that contains scale and speed. "Those who have heard of Justice would know what a great piece 'Genesis' is. It's a bit noisy but it also contains a grand sound that lives up to their reputation. It really feels like something big is approaching you."

4. One Night Only's "One Night Only"
Jung's fourth recommendation after three electronica songs was U.K.'s garage band One Night Only's album of the same name. One Night Only which debuted with single "You and Me" in 2007 is well known for its clear melody and the dreamy voice of vocalist George Craig. Jung's favorite in the album was "Say You Don't Want It" which starts with a vibrant guitar riff that makes it sound as if it is taking off from the ground.
"It's the kind of music you want to listen to when you're going on a journey with the car windows open so it's a song I definitely want others to hear," said Jung. One would easily feel the urge to leave with someone he or she loves when watching its music video that stars George Craig and his girl friend Emma Watson.

5. Brown Eyed Soul's "Can't Stop Lovin' You" [Single]
"Now that I look at the songs I've chosen, I realize that most of my favorite songs are remixes. I guess I really like electronica music," said Jung. His final recommendation was the local soul group Brown Eyed Soul's single "Can't Stop Lovin' You." Of the tracks composed of original song, hip hop and electronica remixes, Jung picked out "Can't Stop Lovin' You (Planet Shiver Mix)" produced by Planet Shiver known in genre of trance. The track is a rare collaboration between the smooth melody of the synthesizer and rich soulful voice of Brown Eyed Soul. It is no wonder that Jung, until hearing the lyrics, mistook it as being foreign music.
※ Any copying, republication or redistribution of 10Asia's content is expressly prohibited without prior consent of 10Asia. Copyright infringement is subject to criminal and civil penalties.
Reporter: Lee Seung-Han fourteen@Reporter : Choi Ji-Eun five@Editor : Heidi Kim heidikim@Editor : Jessica Kim jesskim@
<ⓒ10Asia All rights reserved>