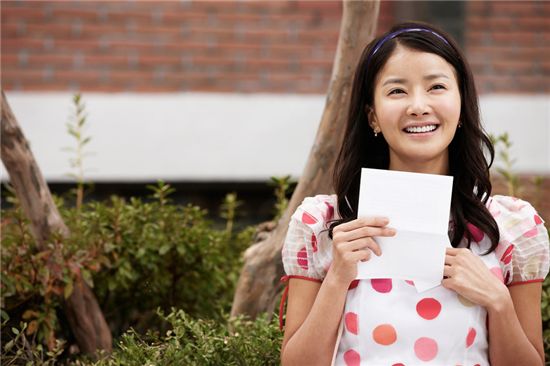 Lee Si-young in a scene from "Meet the In-Laws" [Lotte Entertainment]
Lee Si-young was like a riddle. Although she made her first appearance on the screen a couple with singer-actor Jun Jin in MBC reality TV show "We Got Married," this was an actress whose character was difficult to pin down, as much as her not-so-well-known filmography. In her first encounter with her make-believe husband, Lee, instead of trying to start out romantic as expected, berated her pseudo-husband for not holding her wedding dress properly and brought along with her a plastic model of a Gundam robot in order to share a hobby with him. Among the expressions commonly used to describe an actress are 'innocent,' 'lively' and 'sexy,' she belonged to none which made her interesting as an individual but left one to wonder slightly about exactly how she would be consumed within her acting career.
It is even more interesting to know that some of the roles she played in the past were mostly villainous but in a cartoon-ish way, for the dramas themselves were adapted from Japanese mangas such as "Boys Over Flowers" (KBS, 2009) and "Naughty Kiss" (MBC, 2010). Even MBC's self-made drama "Birth Of A Rich Man" (MBC, 2010) had a comic book-like quality to it. When a rookie actress with a slick, cool image plays the rival of the main lead, she tends to become stereotyped as someone who is hateful and repulsive. But even then, her character as Oh Min-ji from "Boys Over Flowers" who underwent plastic surgery for revenge was no ordinary villain to begin with, nor was the snobby rich girl Boo Tae-hee from "Birth Of A Rich Man" whose idiocy left viewers wanting to observe her more with interest than become annoyed.
However it would not do her much good as an actress if in the long run she continues to be chosen for roles slightly out of touch with reality. Her identity as an actor would be better acknowledged if she starts ridding herself of her unique image as a Gundam mania that she built up from "We Got Married" and her other career as an amateur boxer. In that respect, it is positive that Lee, in shooting her latest film "Meet The In-Laws" (2011), said "Since the story is already comical I decided to focus seriously on my romance with Hyun-joon (played by Song Sae-byeok) instead of trying to add more to that laughter." And so, in the process of getting rid of her exaggerated acting, her character Da-hong, turned out to be the loveliest lady she has ever played. This may not be the peak of her acting career but it is through such a process, learning to harmonize her unique quality with steady acting, that she will become an actress as good as her playlist, which happens to be a wonderful combination of a good music and unique talent of musicians.

1. Choi Ho-seop "As Time Passes"
"'As Time Passes' is a song that has been long loved in Korea, being re-made by many singers. It even got included in my film 'Meet The In-Laws.' The musical director rearranged the song for the movie and I sang it. I had already liked the song for its lyrics and rhythm which is heart-aching yet composed at the same time but I came to like it more after actually singing the song myself."
The title of this song tells it all: please don't forget the memory of love itself even if the passion has died down with time. What has stayed alive is the popularity of this song itself, which continues to be re-performed, not just by Lee who has just recommended this song but from Korea's top vocalist Lee Eun-mi to a budding singer Park Bo-ram from music reality show SuperstarK 2, as well as many other notable singers in the country. Regardless of time, the song has always been embraced by the public, whether it be in its original or re-made version.

2. FreeTEMPO's "Sounds"
"I heard FreeTEMPO has lots of fans in Korea too, thanks to his warm melodies and sophisticated sound. My favorite is 'Rain.' The sound is like actual raindrops. Since there are no lyrics to it, it also seems dreamy, calm and cleansed at the end. It's perfect for when you want to listen to music alone."
FreeTEMPO became known among local music fans ever since the Korean indie scene started to actively embrace Shibuya-kei music. His electronica tunes are fun, sentimental, goes with the club but is also suitable for when reading a book at night. "Rain" whose keyboard sounds at the intro reminds one of the sounds of raindrops, is groovy but feels better when listened to quietly than moving your body.

3. Jason Mraz's "Life Is Good [EP]"
"I just love Jazon Mraz. His sense of fashion, his live performances, his singing skills, his guitar play, everything about him is perfect. I would definitely love to go to his concert if he would come for another one in Korea. Though I love all his music, 'Freedom Song' is the piece that I'm listening to more often these days."
Many actors and entertainers have recommended Jason Mraz's songs for their playlist of this series of articles including "Geek In The Pink" and "Lucky." That is how much his music is loved in Korea. His unique charm is expressed through the way he enjoys music combined with the sentimental melody from his guitar. If you could watch a video of him performing "Freedom Song" live, you would know what this means.

4. Jamiroquai's "Dynamite"
"I like the atmosphere and the enchanting voice that can only be felt in Jamiroquai's music. 'Talullah' that combines the saxophone and a ballad-style rhythm seems to take me to a kind of an exotic bar."
If you don't know what groove is, just listen to Jamiroquai's music. You will learn how fun rhythm can be just by listening to "Virtual Insanity" or "Feels Like It Should." But when it comes to "Talullah," instead of the perfect cutting of the rhythm or interesting base line, it puts Jay Kay's lyrical vocals at the forefront. Even the sound of the brass embraces the melody softly as it can instead of booming according to the rhythm.

5. Utada Hikaru's "Distance"
"Utada Hikaru is a well-known J-pop artist in Korea but I would like to recommend her first album anyway. I just love the track 'Automatic' and once I listened a lot to her first album, I came to love the track 'For You' which is in her second album. The more you listen to it, the better it gets. Of course, she's got a lovely voice, too."
By now it may be a waste of breathe to mention who the famous and talented the above-mentioned queen of J-pop is. One of her songs "For You" is an interesting piece in particular which relies on the voice of the vocals alone for the most part to lead the melody of the song, aside from the sound of the synthesizer that appears intermittently and uses most of rhythm only as an accompaniment to the song. She is a talented singer indeed and thanks to that effort, the bleakness of the song that sings of loneliness from being left all alone is intensified.
※ Any copying, republication or redistribution of 10Asia's content is expressly prohibited without prior consent of 10Asia. Copyright infringement is subject to criminal and civil penalties.
Reporter : Wee Geun-woo eight@Editor : Jessica Kim jesskim@, Heidi Kim heidikim@
<ⓒ10Asia All rights reserved>