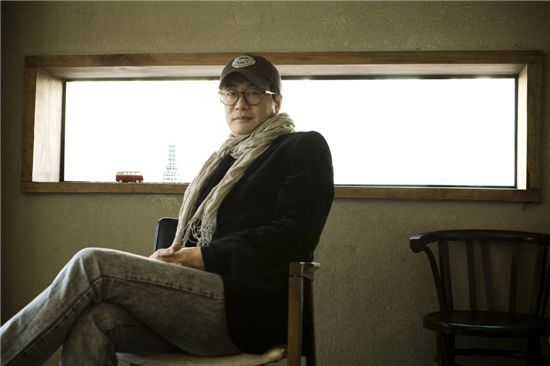 Film director Jang Jin [Lee Jin-hyuk/10Asia]
"It's my only talent," was the response director Jang Jin gave when 10Asia said that that his movies tend to come up with situations that are dramatic but at the same time are quite likely to happen in real life. Examples include films such as "Quiz King" (2010) in which people who gather at a police station due to a pile-up car crash, start unveiling their stories through a quiz show that has a prize money of 13.3 billion or "Going By The Book" (2007) where a single-minded policeman goes all out to play the role of a robber in a mock training for the bank. Jang's other characters such as a president who agonizes over a lottery win or a president who happens to be good-looking and single in "Good Morning President" (2009) may be plausible but not exactly the kind of people you expect to see in everyday life. Jang however, is good at getting his characters get mired in whirlwind of a dramatic events and either starts to build on the characters from that point on or weave more interesting stories into that situation. The unexpected humor which comes where the tension ends is now, referred to commonly as Jang Jin-style comedy.
Given the mentioned history it is not easy picturing him with his latest work "Romantic Heaven" (2011) which is definitely a tear-jerker, let alone the fact that he began writing it during what should be the happiest time of his life which was his honeymoon. "Romantic Heaven" which was born at the oddest time of his life, as if a part of his own comedy, is a story of people's separation by death. "The characters in story are those who are either close to death, already dead and separated from the people they love, or met an unexpected death. It is a melancholy tear-jerker but not the kind that leaves you all crying... perhaps a drop or two will come without you noticing at certain moments," explained Jang.
But more of the surprise is that Jang has cast none other than actor Kim Su-ro - a veteran actor for comical roles - to play Min-gyu, a man who has lost his wife. "I've been observing Kim closely and whether it's because of his responsibility as being a breadwinner since an early age or not, I could sometimes detect his moments of exhaustion, blank-outs and depression time to time even when he seems cheerful and vibrant. I wanted to capture that sentiment," explained Jang.
Even though the film looks so different from his other works starting from genre to its story and casting, Jang points out that a joke that seeps out naturally at the most absolute moment will remind one of his other work "Someone Special" (2004), implying that the film will retain his humor and color. Jang opened this year in a busy mode, directing "Romantic Heaven" and following it up with producing theater play "Romeo Landing On Earth." Lacking time to listen to the latest music, he chose to introduce us to what he calls "acoustic music that is rare these days" which he enjoyed during his twenties. Try listening to the music below while picturing Jang repeating "Boy, did I go crazy for this music. These are all superb pieces," a smile never leaving his face.

1. Deulgukhwa's "1979~1987 Reminiscences of Deulgukhwa"
Director Jang Jin's first recommendation was the song "Flowers On Your Head" from the album "1979~1987 Reminiscences of Deulgukhwa." "I've liked Deulgukhwa band since I was in elementary school but I actually feel more fonder of 'Reminisces of Deulgukhwa.' At the time most of the popular songs in Korea were only about love with lyrics with clear stories but such was not the case with this song. It seemed more like an anarchist singing one of his ideas in fantasy land." "Reminiscences of Deulgukhwa," which is a compilation album produced jointly by Deulgukhwa members Jun In-kwon and Heo Sung-wook, maintained the fierceness of Deulgukhwa's first album. Song "Flowers On Your Head" in particular sings of a seemingly unreachable Utopia, as if trying to reflect the era of their times that hungered for democracy. To Jang, who realized that the world is not what he once thought it was only after he got into college, the song is remembered as a piece whose lyrics are hard to identify with at first but leaves a lasting image that is hard to explain in words.

2. Siin-gwa-Chonjang's (Poet and Village Chief) "Blue Sail [2nd Album]
"It feels like a cat walking across the keyboard… you'll know what I mean only after hearing it for yourself. I mean, wow, it's just amazing." Such were Jang's comments that was reminiscent of a recent hit commercial containing the line, "It's good for you, very, very good for you but I can't find words to describe it." Jang was able to give explanation for this song only after he finished showering the album with countless compliments."Ham Choon-ho is still the best guitarist and vocal Ha Duk-gyu sports a unique voice which is combination of a nasal sound and a sweet voice. I can imitate the beginning where he plays the guitar but when it reaches the ad-lib part -- oh man, I don't have a chance. (laugh) I went to their concert a few times. I always found that short moment they praised cats very charming."
This song, which begins with Ham Choon-ho's solo performance, is a masterpiece that did a wonderful job of capturing a cat's movements.

3. Eotteun-nal's (One Day) "Someday II - Cho Dong-ik, Lee Byung-woo
If there is guitarist Ham Choon-ho in Siin-gwa-Chonjang, Eotteun-nal has Lee Byung-woo to be equally be proud of. Lee has directed music for the film "Romantic Heaven" as well as other well-known local films "Haeundae" (2009), "Mother" (2010) and "Purpose of Love" (2005) and emerged as one of the most prominent music directors in the country. Back in 1986 he formed a folk band with Cho Dong-ik and released two albums. "I have both albums by Eotteun-nal and I really think they are masterpieces," said Jang. However the real reason Jang recommended the track "Take Off" is because of guitarist Lee. "He's a giant in the music world in Korea. I first came to work with him for the film 'My Son' (2007). To him, it didn't matter how much he earns through few movies. He waits till he is struck by an inspiration and brings out a good music. Isn't that cool?" The recommended piece "Take Off" which has well expressed that heart-fluttering moment of starting something is good to listen to anytime but goes particularly well with spring.

4. Kim Kwang-suk's "Kim Kwang Suk's Story of Song"
"It's such a great song. Why did he have to pass away so soon…" Jang paused a bit after bringing up a tune by the late Kim. Explaining that he starts to miss the person who sang the song when listening to old music, chose "Those Days" as his fourth recommendation which sings of old love that is slowly becoming forgotten. This is obviously a love song, one that pours out feelings of heartache between restraint and lashing it out. But now that the singer is long gone, the lyrics which goes "Those days when I was able to feel happiness just by listening to your voice, those days I could be tearful just by calling your name" has somehow come to refer to singer himself. "I wasn't all that interested in him when I was young but now I find myself listening to his songs a lot these days. The camera director who worked with me keeps on singing this song whenever we go to karaoke bar," said Jang.

5. Yeohaeng (Travel) Sketch's "1st Album"
"I was driving late at night when this music flowed out from the radio. Boy, was I glad to hear it again." The reason Jang so happily listened to the song "Star is Setting Down" is partly because it was an old song he was familiar with but it also probably had to do with the fact that he was all alone driving in the darkness. The song "Star is Setting" that contains the sounds of night bugs fill up the space and softly embraced by the sound of the guitar, truly goes well with night rather than day, especially a night in a countryside with a sky brimming with countless stars. The song gently comforts souls who have lost their dreams one by one due to various obstacles in life. Make sure to prepare yourself when trying out this song because you might end up listening to it over and over again.
※ Any copying, republication or redistribution of 10Asia's content is expressly prohibited without prior consent of 10Asia. Copyright infringement is subject to criminal and civil penalties.
Reporter : Lee Ga-on Photographer : Lee Jin-hyuk eleven@Editor : Heidi Kim heidikim@
<ⓒ10Asia All rights reserved>