Interview with actor Noh Young-hak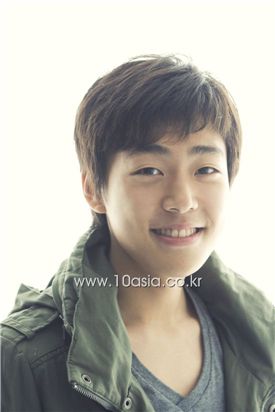 Actor Noh Young-hak [Lee Jin-hyuk/10Asia]
My name is
Noh Young-hak.
I was born on April 1, 1993.
I have one older brother
who is the same animal sign as me. He is 31 years old and even though he follows me around and annoys me, he is very coquettish and cute.
I am confident in running because I have great stamina.
I was always ahead of the runner in second place by a lap whenever I was running. (Do you have two hearts?) No, I have three! (laugh)
Shooting the drama "The Duo" is the longest time that I have spent working with actors of my age.
However, I am a bit cautious when it comes to getting to know the actresses. They might get hurt by some of the things that I do and I feel that I shouldn't treat them like how I treat the guys.
I cried a lot for my audition for MBC's TV series "Road No. 1."
I thought that I did a good job but director Kim Jin-min said, "It seems like your acting is fake and if you continue like that you won't be able to act even after your twenty." I began to cry because he pointed out my faults directly. I cried in the bathroom for about an hour and came back out and acted with my heart. Director Kim complimented me afterwards saying that it was okay. He is someone I deeply respect.
They said that this winter was extremely cold
but I was able to bear it because we shot "Road No. 1" in minus 20 degrees weather. The set of "Road No. 1" was an actual battlefield. That was the first time I ate food which had fallen on the floor. The fellow actors told me "Hey Young-hak, the military is more comfortable than here," because the weather was so cold. (laugh) (Woo-shik: That is why people would say it must be really cold when Cheon-dong (Noh's character) is wearing a jumper on the set of "The Duo.")
It's actually harder to hit someone than getting hit.
I told Woo-shik not to worry and that it is okay to hit me by accident but his hand always stopped halfway since he felt bad about it. We cowered in front of the director whenever he got angry with us about it.
Woo-shik got bruised badly
which was worse than his disguise from getting whipped on his calves while shooting a scene. It was to the extent where he couldn't walk properly because it hurt real badly. I was really upset when I read a comment on the message board saying, "Why is Gwi-dong acting hurt when he wasn't hit?" It was because I knew how much trouble he went through for that scene.
I check the viewership ratings everyday for "The Duo"
because I want to tell the staff. I actually don't have to pay attention to the ratings and just work hard on my acting but I did it in order to cheer up the staff since they work so hard. Everyone Fighting! (laugh)
I am very jealous whenever I see tall people since I'm not that tall.
People tell me that guys grow when they are in the military but I think it's a lie. That's why I'm thinking about going to Peru since the average height for guys is 165 centimeters. (laugh)
I usually don't dress up.
I even dressed in sweat pants for auditions and don't put any wax in my hair. I try to be easy-going so that when I act very coolly on TV people will be impressed.
I meditate for about an hour or two before I go to sleep.
I really enjoy that hour. I am easily frightened and whenever I am scared I go to the bathroom. (laugh)
That's why I really can't watch scary movies.
I was afraid to walk the streets at night thinking that I might be captured by aliens after watching "Fourth Kind." However, I'm not scared of ghosts since there are so many of them on set.
I have an appetite which is beyond my comprehension.
I can easily eat two large-sized cups of popcorn whenever I watch a movie and eat a whole plate of salmon at family restaurants. I'm the kind of person that gains weight really fast but can lose it easily.
I want to become a regular member on MBC's variety show "Infinite Challenge."
All the members are really funny and I feel that the show will be okay if they had a serious teenager character.
I want to become the world's best actor when it comes to acting.
Just like senior actors Hwang Jung-min, Choi Min-sik and Kim Chang-wan whose inner workings are the best. Once I saw someone sleeping on the bench on set and realized it was Kim Chang-wan. Wow, he's so free spirited! I want to become just like him.
I want a girlfriend when I get older.
I don't know what it is like to be in love because I am not that curious about the opposite sex but I feel that [being in love] will be important in the future for my acting skills. Ah, I can try to imitate it. (laugh)
I already have an event planned out for my future girlfriend.
I will purposely arrive late for our trip and after she sees an airplane write 'I Love You' in the sky, I plan on proposing to her with a sketchbook just like in the movie "Love Actually."
I consider relationships to be the most important thing in life.
Also, it's great to know that the tie between a person who reaches out for me and trusts me will never end.
※ Any copying, republication or redistribution of 10Asia's content is expressly prohibited without prior consent of 10Asia. Copyright infringement is subject to criminal and civil penalties.
Reporter : Lee Ga-on Photographer : Lee Jin-hyuk eleven@Editor : Lucia Hong luciahong@, Jang Kyung-Jin three@
<ⓒ10Asia All rights reserved>