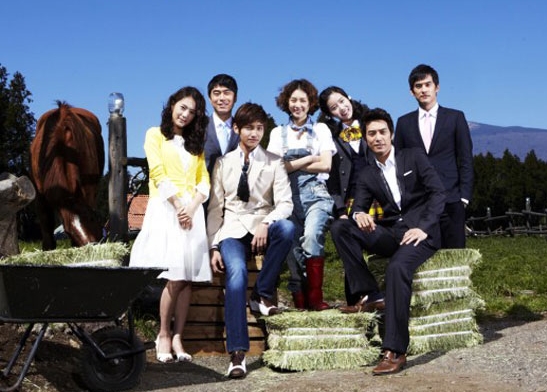 Upcoming SBS series Paradise Farm [SBS]
썝蹂몃낫湲 븘씠肄
MBC TV series "My Princess" and SBS' "Sign" which premiered simultaneously on January 3 are currently locked in fierce competition to take the No.1 spot in TV ratings. And while SBS' spy thriller "Athena," whose lackluster performance is betraying the hype it garnered as a blockbuster drama, is standing up against MBC's "Queen Of Reversals" that has been slowly gaining on the former, the show also being extended by an additional ten episodes. So what sort of dramas are lined up for the first half of 2011 in the Korean drama market where there is no telling how things will go? 10Asia looked into some of the shows in advance, classified according to the day they will go on air.
Mon-Tue series : Solid script, star actors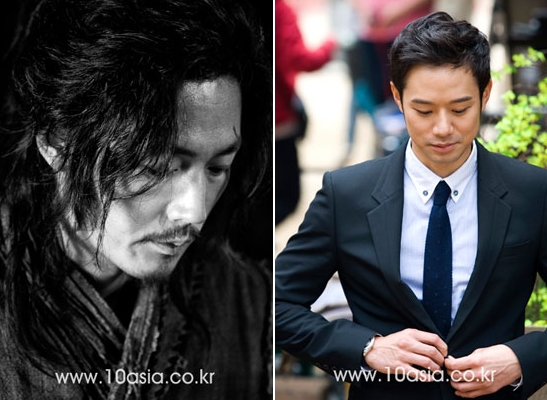 Jang Hyuk (left) who will star in SBS series "Midas" (left) & Chun Jung-myung in MBC series "Jiakpae"
썝蹂몃낫湲 븘씠肄
After current spy thriller "Athena" ends its run, "Midas" will go on air starting February 21. The drama is about a man named Kim Do-hyun (played by Jang Hyuk), an ambitious graduate from the Judicial Research & Training Institute, who comes to live a corruptedly after becoming outwitted by a brilliant business women named Yoo In-hye (Kim Hee-ae), also known as "Hands of Midas." Along with the fact that the script will be written by Choi Wan-kyu known for several hit series including "All In" (SBS, 2003) and "Jumong," (MBC, 2006), what will be worth looking forward to the most will be the see the collaboration of actor Jang, who won the grand prize at 2010 KBS Drama Awards for his role in "The Slave Hunter" (KBS, 2010) and top Korean actress Kim. "I believe Jang would do a great job in expressing the double-sidedness of human beings," said Kang Shin-hyo who will direct the drama. He added that he "also wanted to play a 'dandy' role for a change after having played 'rough' roles for a while."
The drama that will follow after KBS' "Dream High" will be a detective series whose title can be translated into "Organized Crime Division" slated to premiere February 28. The drama set in the crime division of Gangnam Police Station seeks to bring out the reality of Korean cops who are "usually looked down for their so-called 'out-dated' investigation methods which but, at the same time, investigate most realistically," explained the show's director Kwon Kye-hong. Actor Song Il-kook will lead the story as a hot-tempered detective whose fist speaks faster than his words, while actors Kim Seung-woo and Sun Woo-sun will also appear as detectives of the same division.
MBC is set to air its new series "The Duo" on February 7, immediately after "Queen of Reversals" wraps up. The script will be written by Kim Woon-kyung who is particularly talented at describing both humanism and the sentiment of low class people as shown by her past series "Moon of Seoul" (MBC, 1994) and "There Is A Blue Bird" (KBS, 1997). Actor Chun Jung-myung and Lee Sang-yoon have been cast as two men who got switched at birth in the story set in Joseon era (1392- 1910).
Unlike the aforementioned stories, "Paradise Farm," set to show starting January 24 in SBS' 9 o'clock time slot after ongoing series "I'm Okay, Daddy," will be a relatively cheerful story dealing with young lovers. Starring Lee Da-ji (Lee Yeon-hee) and Han Dong-joo (Max Changmin from TVXQ), "Paradise Farm" is about a young couple who divorced each other six months after their marriage only to see their paths cross each other once again at a ranch in Jeju Island, six years later. The drama wrapped up filming last summer. Director Kim Chul-kyu said that although both actors may seem a little stiff in their acting during the first couple of episodes since Lee has yet to accumulate enough acting experience and Changmin is acting for the first time, "they will increasingly look adorable since they become more comfortable with their roles as the story develops."
Wed-Thurs series: Fantasy, comic book heroes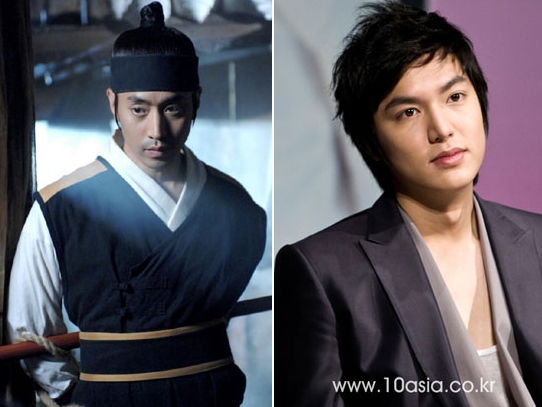 Eric (left) who will star in SBS series "Poseidon" and Lee Min-ho in MBC series "City Hunter"
썝蹂몃낫湲 븘씠肄
Following SBS drama "Sign" are "49 Days" (tentative title) and "City Hunter" scheduled to go on air in March and May, respectively. The two dramas offer a chance to once again encounter the latest work by script writer Soh Hyun-gyung and director Jin Hyuk who worked together well in former primetime series "Princess Prosecutor" (SBS, 2010). "49 Days" is a fantasy romance about a soul of a woman Shin Ji-hyeon (Nam Kyu-ri) who falls into coma due to an unexpected car accident and borrows the body of Song Yi-gyeong (Lee Yo-won) instead, to collect tears of three people which will be the key to her return back to the mortal world. "The story began with a simple question, how many people will cry for me when I die?" said director Cho Young-gwang who will head the drama. "As this is the very first fantasy being done by writer Soh who is more known for her detailed portrayal of real life, the new drama will probably be good reflection of reality as well, but under a highly unusual situation."
"City Hunter" based on hit Japanese manga of the same title by cartoonist Tuskasa Hojo, attracted much anticipation for casting star actor Lee Min-ho to play the main lead Kang Jin, a man hiding pain from his past as he takes care of various cases in the city.
Other follow-ups for SBS drama is "Poseidon" set to go on air within the first half of 2011 under the direction of director Yoo Chul-yong known for other SBS blockbusters such as "All In" (SBS, 2003) and "Swallow The Sun" (SBS, 2009). The story about Korea Coast Guard will star Eric who was discharged from his two-year mandatory military service last winter as well as other actors: Kim Kang-woo, Kim Ok-vin and U-Know Yunho from TVXQ.
Weekend series that will pique your curiosity and experimental single-episode dramas

Upcoming dramas: SBS "New Gisaeng Story" (translated title) and MBC's "Twinkle Twinkle" (tentative title)
썝蹂몃낫湲 븘씠肄
A new SBS series titled "New Gisaeng Story" (translated title) will kick off on January 22 after its predecessor "Secret Garden" which created the 'Kim Ju-won Syndrome' every weekend. The new drama will be led by director Son Mun-gwon and script writer Lim Seong-han who are husband and wife and have already collaborated in several weekday series such as "Love In Heaven" (SBS, 2005) and "Opposites Attract" (MBC, 2007). The story takes off based on the presumption that"Gisaeng" women -- the Korean equivalent of courtesans equipped with wide knowledge in poetry, culture and even politics enough to converse with high officials of the old Joseon Dynasty -- continue to exist in modern day Korea. Main characters for the drama include newcomer actresses Lim Soo-hyang, Kim Hye-sun and Baek Ok-dam.
MBC's new weekend series of the same timeslot that will succeed "Gloria" is "Twinkle Twinkle," a light, cheerful and heart-warming family drama scheduled for February 12. The story looks into the true meaning of family through the life of Han Jeong-won (Kim Hyun-joo) and Hwang Geum-ran (Lee Yu-ri) who get switched at birth by mistake in the hospital. The drama will also be a debuting stage for Park Yu-hwan, brother to JYJ singer Park Yuchun, who has made a successful debut as an actor through KBS drama "SungKyunKwan Scandal." The young Park will appear as the uncle to Kim Hyun-joo's character and half-brother to middle-aged veteran actor Jang Yong who, according to the script, is 50 years older than him, becoming a talk of the town for the highly unusual circumstances he is put in. "It won't be easy to find a role model for this character but I decided to cast him because he has a great look and voice," explained director Noh Do-chul.
Finally for single-episode dramas, KBS, that has been keeping up the tradition of particular genre will begin to air eight-part series "Monster" starting January 30, right after four-part series "Special Force MSS" (translated title) completes its run. A thriller about eight students from Korean Minjok Leadership Academy who receive same letters, is written by Park Yeon-sun who, also gains much anticipation for her previous hits "Alone In Love" (SBS, 2006) and "Evasive Inquiry Agency" (KBS, 2007).
※ Any copying, republication or redistribution of 10Asia's content is expressly prohibited without prior consent of 10Asia. Copyright infringement is subject to criminal and civil penalties.
Reporter : Lee Ga-on Editor : Heidi Kim heidikim@, Lee Ji-Hye seven@
<ⓒ10Asia All rights reserved>