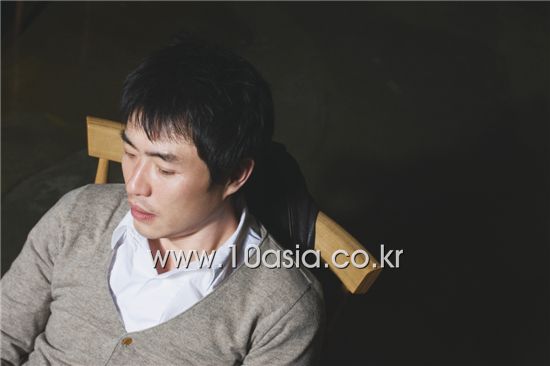 Director Ryoo Seung-wan [Chae Ki-won/10Asia]
10: But the empathy felt toward the characters or organizations within the movie is almost at a national level ? to the extent that it seems almost surprising that the actors felt the script doesn't make sense. Don't you believe discord and conflict between prosecutors and the police, and corruption within public organizations exists everywhere quite openly?
Ryoo Seung-wan:
But it wasn't the incidents within the movie or the structure of the story that drew me to the script. I wasn't even No. 1 on the list of directors the production company had in mind for the film. What I was interested in was the individuals who get caught up in the incident. Many people who bow their heads and go on their knees in front of others to make a living but wait for the time that the situation will turn around. Including myself. (laugh) That's why I wasn't too worried when something that occurs in the movie happened in reality. The movie focused more on the individuals.
10: What left a strong impression was that nobody had absolute power when it comes to their relationships. It was a pandemonium, with no entrance nor exit, where the power structure and the winner and loser constantly changes.
Ryoo:
Of them, I think Jooyang (Ryoo Seung-bum) in particular was similar to me because a movie director is allowed to exercise dictatorship. In the movie, when Jooyang asks the investigator to issue a warrant, the investigator responds, "Under what pretext are you asking for a warrant..." Then Jooyang says, "I don't know anything about it. I just really need to know." It's what I say a lot when I'm set. "Casting? I don't know anything about it, I just really want to shoot there." (laugh) Of course, I've been an assistant before too so I know how difficult a job it is. But I end up acting like that because I'm holding power while morally unstable. If someone proposes a better idea than mine, I'd sarcastically say, "Isn't that brilliant. You should be the director." And it's how Jooyang treats the investigator. (laugh) So the reason Ryoo Seung-bum can pull off the role so well is because he's observed me and he knows so well what it is that I want. And it may seem like the director is a dictator but before a movie goes into shoot, the director is the underdog in his or her relationship with the investor. Once the camera starts rolling, the director becomes the underdog who exercises his power while under control of the investor. And when a film cranks out, that power gets distributed among both parties equally. That's when a new form of power appears -- the media and audience. The ones that had to be controlled on set have become the ones we have to flatter. We have to ask them to have fun watching our movie. (laugh) "The Unjust" is very similar to the process of making a movie. The life I live has been reflected into the film.
10: So it may be because the movie is so close to reality but it almost gave me a headache because the unjust deals that exist within the movie exist in reality as well and show no sign of improving.
Ryoo:
The speed may differ but I believe that the world we live in is slowly improving. I used to live in times when I had to stop and salute when I see our national flag going down. But at least we don't have to do that anymore. And there are eyes that are watching us and revealing the truth in some way or another. I think the world is becoming a better place, although the pace is sometimes fast and sometimes slow. It's impossible for there to be no corruption in a world and every human being to live like Ghandi or Jesus. I think it's an issue of perception. Even endings to movies can be perceived differently depending on what you think.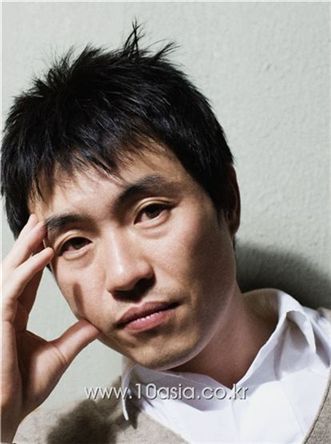 Director Ryoo Seung-wan [Chae Ki-won/10Asia]
10: How was it making a movie with a script that someone else wrote? You had always made movies with your own scripts.
Ryoo:
I felt more at ease because I could distance myself from the script. It's very rare that the director will know when to give the okay sign every time. (laugh) And it's even more so in my case. It's not easy to get caught for what you don't know when you've written the script yourself. You just don't want to admit to your mistake. But the script for "The Unjust" was written by someone else so it could be interpreted in different ways which meant it was easier for me to ask for help for what I'm not sure of. And it helped me communicate with the actors better as well. When we used to discuss about what I wrote, I used to tell them, "Why can't you understand that this is this?" I wouldn't approve of what others think. But I wasn't the one who created the world that exists in "The Unjust" so I could be wrong. All that mattered was that I do my job well in a technical sense ? zoom in onto important props, film long shots when I need to show the setting and check to see when the actors pull off their lines well.
10: Some directors have a harder time in having to focus more on the technical aspect. They say that they feel that they're not doing art anymore but have become technicians.
Ryoo:
That could be the case but I guess it works better for me. I think I actually see more by maintaining a certain distance. It might be less fun since I can't be as much of a dictator (laugh) but I've come to realize that holding power isn't all there is to making films. Making a good movie is what's important. I thought about what my role and responsibility was in filming "The Unjust" and came to enjoy more rights after I realizing the responsibilities I need to fulfill. Everyone produced great ideas competitively and I really am the one who added the finishing touch.
10: After filming "The City of Violence," you said you wanted to prove the world you live in. What did you want to prove through "The Unjust"?
Ryoo:
The Ryoo Seung-wan from then and now are different. And the Ryoo Seung-wan who made "The City of Violence" and the Ryoo Seung-wan who made "The Unjust" are different as well. I remember why I said that back then but it doesn't mean anything to me now. And what's important now is not my world but the world I've chosen to depict in the movie. My name is actually a burden for me these days. And there have been many times that my name comes before the movie which has instilled a sense of prejudice or bias in the audience when they watch my movie. For example, "The Unjust" will be disappointing and meaningless for the audience who were expecting to see a movie like "Arahan" because it's made by Ryoo Seung-wan. Having such expectations doesn't help much when you're watching a movie although I sometimes make that mistake as well, trying to think of what the movie will look like in advance. But when I look back on it, it was my problem, not a problem with the movie. I was in the wrong mindset when watching the movie. I would have seen what there really was to the movie if I had no expectations. So me having said in the past that I want to prove my world, that too was just me being childish and thoughtless. How would I prove it and what happens when I do? Send a certificate of proof? (laugh) And there have been many times I felt bad for my movies. I read an article that said "The refreshing style unique of Ryoo Seung-wan thrives in the film like a fish that is alive.' But have there been any films I have made that were refreshing? Was "No Blood No Tears" that refreshing? (laugh) I think there must be sort of an optical illusion that surrounds me ? about my filmography, about me… People even think I'll be a good speaker and be funny because I'm a director who has been on entertainment shows. But you probably know from talking to me today that I stammer a lot and fumble about. I am far from being a perfectionist and I don't have brilliant talent. Otherwise, I would have passed my exams to get into high school. (laugh) I had felt bad for my movies in the past because it was as if people's prejudice of me affected how they view my movie so it's a relief that it isn't as bad this time.
Reporter : Lee Ji-Hye seven@Photographer : Chae ki-won ten@Editor : Jessica Kim jesskim@
<ⓒ10Asia All rights reserved>