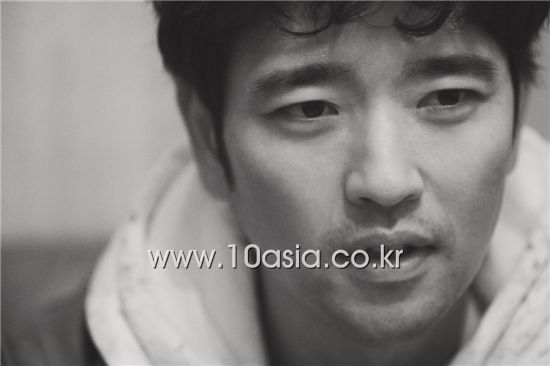 Actor Bae Soo-bin acts a scene from KBS Drama Special "Just Say It!" at the broadcaster's drama set in Gyeonggi Province, South Korea on November 8, 2010. [Chae Ki-won/10Asia]
"I used to take on roles that usually evoked unrealistic fantasy," actor Bae Soo-bin who will star in the 23rd episode of the omnibus TV series KBS Drama Special "Just Say It!" admitted in regards to the parts he played for the past few years. Note that he just said that in the past tense. In the recent KBS single- episode drama "Just Say It!" Bae will play Gi-young, a lazy bum working in a district office, who hates his job and continues to be hung up over his first love of nine years ago. Given the past roles he has played in other dramas, such as the royal guard Cha Cheon-soo in MBC historical drama "Dong Yi (2010)," Park Joon-se in SBS series "Brilliant Legacy (2009)," and King Jeong-jo in SBS drama "Painter of the Wind (2008)" where he was flawless physically and mentally, this is quite a change. So how will he pull off a pitiful character like Gi-young and what kind of meaning does this have for Bae? Below is 10Asia's interview with the actor at the set for the show.
10: It's been long since you appeared in a single-episode drama.
Bae: I found the script very interesting. It tugged at my heart in many parts and made me nod with sympathy in others. I decided to take the role as soon as I finished reading it.
10: At first when I read the script I thought you would appear as the handsome and popular Gu-byeong but you played 'the pathetic Gi-young.
Bae: I was attracted to Gi-young. You see, I too have this loser-tendency in me (laugh). Gi-young may not be sharp but there is something friendly and trustworthy about him, the nice guy you may encounter in your neighborhood. His biggest charm is that he is a good guy. The plot builds around how he gets to know his female friend Young-hee (Kim Gyu-ri) and it will be something most people can relate to.
10: During the shoot, you were saying to yourself "Why am I walking like Gi-young?'" Since you played many cool-looking roles in the past and you are already quite handsome yourself, it seems like you will probably have needed to put in extra effort to play the role of a loser.
Bae : I just think of myself when I'm at home, all exhausted. When acting Gi-young I try to bring back that feeling, the desire to just lie back all the day long, doing nothing. It's just that in Gi-young's case, I exaggerate that more, thus making it look comical. The funny thing is after I curled my hair like this, my hair seems to stay that way. I'm also starting to stammer more and even starting to walk down with my shoulders low.
10: I'm sure you have never played a role like this.
Bae: It's my first time. But it's fun. There is catharsis to it.
10: It must be fun doing something new.
Bae: That is the fun of it. But when reading the script I made up my mind on the spot because I really liked the story. There seemed to be a lot I can offer for the role.
10: What part of yourself are you offering in this role?
Bae: Like Gi-young, I too get fed up with my life, don't feel like going out and occasionally miss what's going on around me. Gi-young is more inapt than me in that sense but he also has qualities I can relate to. I plan to become one with Gi-young by reducing on the differences we have one after another.
10: And how has that worked for your role so far?
Bae: After the first shoot I felt Gi-young enter my heart. After filming the part where Gi-young screws up on his badminton match during the sports competition, it struck me that this is basically what the character is like. Since then I've become much comfortable playing the role, to the point I'm interested with even the smallest situations.
10: It seems that such interesting and minor characters can only be seen in single-episode dramas.
Bae: True. After all, isn't single-episode drama a lot like a movie aired on TV? With films you invest a relatively larger amount of money and time but with single-episode dramas, a product with a narrative is created within a shorter time. I think it utilizes the benefits television has in a cinematic way. I actually love single-episode dramas, both watching and acting in them. I made my TV debut in the omnibus drama series MBC Best Theater (1991-2007).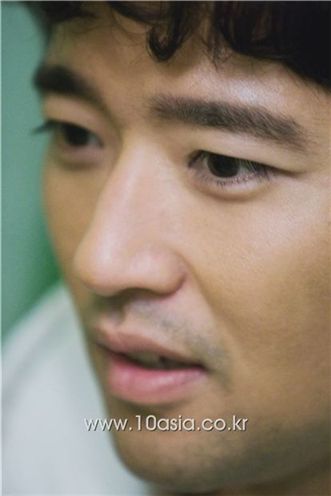 Actor Bae Soo-bin [Chae Ki-won/10Asia]
10: Many people remember you from your debut drama "Big brother lives in Shaolin Temple (2004)" which was part of the omnibus series for MBC Best Theater. The fact that you have come a long way from there and are now starring in the one-part drama "Just Say It!" with actress Kim Gyu-ri makes the show more interesting.
Bae: As I have received much help from one-part dramas when I was just starting out, I wish to return the favor now. That was why I was so happy when single-episode dramas came back with KBS Drama Special. Short dramas much more worthwhile than you think. These days, everyone is talking about the Hallyu and how to export dramas but without one-act dramas, there would be no way to debut writers who will create that. We do have good writers now but even they will reach a limit at some point. Single-episode series help nourish new writers that continue to bring in new ideas and diverse points of view.
10: It seems that single-episode dramas are necessary even from a business standpoint.
Bae: Of course. The famous script writers that we all know all debuted through this route. Don't most people in the writing business - supporting writers of the drama and all -- wish to establish something of their own in the meantime? These dramas help them fulfill their wish for a time. Even when I become a top star, I want to keep starring in single-episode dramas as long as there are good scripts.
10: Isn't it also true that it was easier for you to choose to take on the role because it was a single-episode drama? I don't think it would have been easy for you to take on a role otherwise since you just got done shooting 60-part drama "Dong Yi."
Bae: No. Thank god this is just one episode given that I am scheduled to take part in a theater play in December.
10: You even played the most physically demanding role in MBC's "Dong Yi."
Bae: The role was most demanding physically only (laugh). But as much as it was demanding physically, mentally it left me craving for a totally different role. I chose this drama because this is something everyone can enjoy. It is a wonderful task that helped me get rid of certain acting patterns that settled into me for about a year.
10: I don't think you're taking any breaks given that you'll be appearing in a play next month.
Bae: There must be a reason I'm continuing to push myself? I'm not sure. I have been like this for the past few years and it seems whatever what I do, I continue to learn from the process. I think I will keep it up until my body can no longer take it or I get thoroughly tired of acting. I try to do my best in what I can. It's good for me as well because I can broaden my spectrum as an actor. I wish to continue to challenge myself in other genres and character as I have been doing in the past. It will prevent me from slowing down.
10: You seem to be the type that tries to make the best out of what is right ahead of you rather than making long-term plans.
Bae: I have no plan. It is not like things will go exactly as planned. I think it's like fate, something just comes to you. Depending on how I live I may encounter diverse roles. I don't have a plan in that aspect. I will just continue to play whatever role is interesting enough for me and with stories that viewers can relate to.
Reporter : Wee Geun-woo eight@Photographer : Chae ki-won ten@Editor : Jessica Kim jesskim@
<ⓒ10Asia All rights reserved>