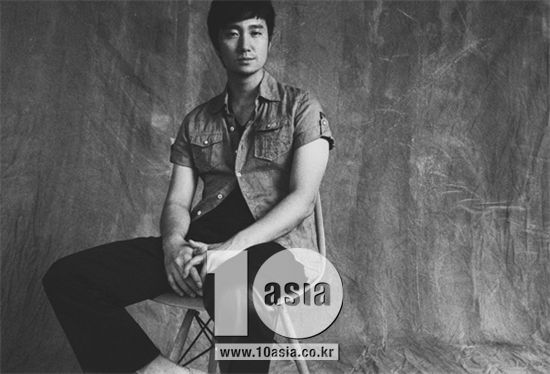 Park Hae-il [Chae Ki-won/10Asia]
10: Just like you said, you have to maintain a tension with the villagers so I think having to pull off such a role as a stranger must've had an influence on the vibe on set even when the camera wasn't rolling.
Park Hae-il: Tremendously. We were filming over an extended period in the district of Muju and when we go onto the set to start shooting in the morning, Jung Jae-young would arrive at the dressing room first, starting the day by shaving his head. It almost felt like a ritual. And then I would start becoming wary of him while watching him get his make-up done which changed him into a village foreman, and then changed the look in his eyes. I also felt an immense amount of power from seeing how my senior actors would look at the conti while smoking in the shade before going into shoot, or how people would transform completely after having disappeared from the set for a while. And these are people who exude twice to three times that force about them once they actually go into shoot.
10: Do you tend to think that you don't want to lose against them when you see that?
Park: Honestly, yes. I also think that's the characteristic of this movie. And I'm not just talking about competing against them in terms of acting but that I should hold my ground.
10: That must mean you felt emotions which almost made you almost lose your ground.
Park: I was working with seniors whom I had known in the past but had never worked with on a fim together. I was nervous about the fact that I was going to have to face each of them at least once. It actually took us a week to shoot the scene where I sneak into the house of Jeon Seok-man, the role played by actor Kim Sang-ho, then get stabbed by a gimlet and run away to the cliff. A week may sound like nothing, but when Kim was chasing me with an axe while chasing after me with magical methods of contracting space... He may look docile but he's the type that can become very scary if he has malice. I realized while shooting that scene that Hae-gook has gotten himself into an insane location and that's when I started my struggle to make it out of there.
10: The movie showed that you must've had a hard time physically.
Park: Now that I look back on it, I think I really did have a tough time. I was sick back then although I have nothing to say should someone come up to me and tell me that actors are supposed to take care of their health. My body was aching so much that I was suspicious of whether I had caught the influenza virus. And yet in that situation, we had to close all the windows for the first scene to record real-time, so I was dripping with sweat during filming it. That's why it was even more tough. In the aforementioned scene, with actor Kim Sang-ho, my allergies kicked in while I was going up the mountain so marks that looked like I got bitten all over my body by mosquitoes appeared and they spread all the way up to my neck. I told myself I couldn't keep shooting in that state so I quickly went to the closest dermatologist and got a month's worth of medicine for it for the summer scenes but then you know how strong medicine for the skin is, right? I felt lethargic and dopey after taking it. That memory is embedded in my mind so deeply that it's to the point I could become neurotic just talking about it. I do think I somehow managed to wrap up the shoot well somehow though.
10: In part, you must feel proud about the fact that you overcame that.
Park: I want to pat myself on the back, telling myself that I had a hard time and that I managed to wrap up the shoot well, regardless of whether I did a good job or not.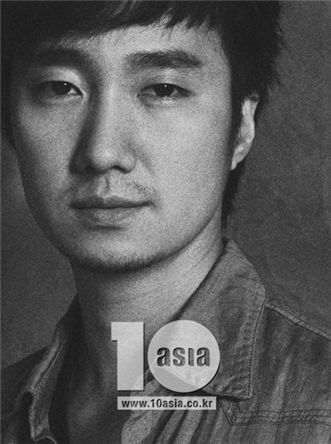 Park Hae-il [Chae Ki-won/10Asia]
10: Then do you think you have become stronger both physically and psychologically by working on this film?
Park: A certain amount, in some ways. It'll help in my future films. It's not to the extent that it's like a turning point though -- I'm accumulating on good nourishment. It'll be helpful to me even if it isn't received well by the audience.
10: Do you think the experiences of expanding on your filmography accumulates within you.
Park: I may not be aware of it but I'm sure at least one percent of each movie is accumulated within me. Even if it may be in my subconscious. I think that has an influence on me in my life as an ordinary individual. Minutely.
10: In that sense, which movie has had the most influence on you?
Park: It's not because it's my debut film but "The Waikiki Brothers" is a film that has a lot of significance for me. It's a movie that taught me in what sort of attitude I should tell a story to the audience. The film is ultimately about people. Realistic [stories].
10: Then could we consider such learning as you developing?
Park: I want to see for myself too. Whether that has happened. There are definitely moments from the past that I remember while working on films. It's quite amazing. Images from movies I worked on a very long time ago sometimes pop into my head without me being aware of it. I do think they come to me because they're related in some way and I think about why that happens at those moments.
10: I guess you're not the type that it that pays too much attention to such things.
Park: Then I should be going back and looking for it. But I'm not the active style.
10: But don't you need an evaluator other than yourself if you want to see yourself develop? It's not easy to judge yourself and say, I did well. (laugh)
Park: I don't think it's absolute but I do have evaluators with objective perspectives. My best friends. I have about seven to eight friends from elementary school that I still keep in touch with. We can be ourselves completely so they tell me about my acting comfortably, in a very straightforward manner, whether I did good or bad. Of course, I sometimes feel hurt but I get over it after a drink. It's definitely not absolute but it helps a lot.
10: Then which role did your friends give you the most favorable evaluation for?
Park: They have never given me good evaluation. They always talk about the bad things. (laugh) That everyone else did great except for me.
10: But you must still feel lucky as an actor to have such people around you.
Park: I'm not too sure but I don't want to lose them.
10: It seems that you carry on one life -- you don't distinguish between your daily life and your life as an actor.
Park: I think it's hard to, yet. There is so much power and ingredient I have gained [for my acting] through everyday experiences. And I'm not saying I'm going to act the way I do in everyday life for my acting. I'm trying to show emotions from everyday life, for example, how people in documentaries and newspaper articles live. Stories in scenarios take off from how people live so I try not to separate the two.
Reporter : Wee Geun-woo eight@
Photographer : Chae ki-won ten@
Editor : Jessica Kim jesskim@, Lee Ji-Hye seven@
<ⓒ10Asia All rights reserved>