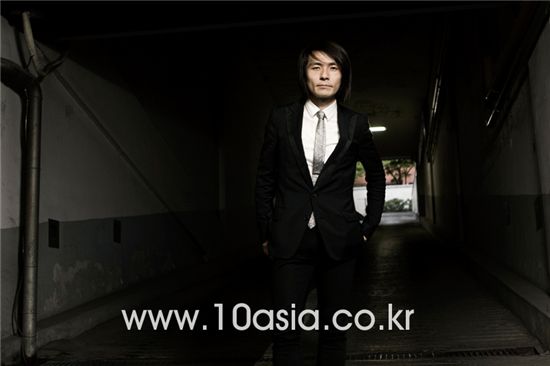 Japanese Shibuya-kei musician Captain Funk [photographed by Lee Jin-hyuk/10Asia]
DJ Captain Funk says "I emphasize the retro spirit of Shibuya-kei thru funk music"
In early 1990s, the music genre of Shibuya-kei -- a combination of new wave, pop music and bossa nova -- had quite shocked the typical Japanese pop music at the time. Shibuya-kei was the kind of music that was hard to define as one genre. It was in a genre of its own but, at the same time, it transformed into a new different genre depending on the style of each artist. DJ Captain Funk, who started out working as a techno musician in Italy and later converted to Shibuya-kei, is an artist who emphasizes the retro style but still maintains his unique musical style that is different from any other Shibuya-kei. Captain Funk, who makes strong funk music with no specific musical influence, held his first concert in Korea on June 5. His new album "Korea Platinum Edition," released last month and specifically designed to please the Korean fans, contains many tracks that are easy to hum along to, thanks to the repetitious melodies. It is also an album which represents his musical philosophy that "music exists for people who listen to it." We met with Captain Funk the day before his Seoul concert, on June 4.
Q: What is your first impression of Korea?
Captain Funk: I think Seoul is an incredibly organized city compared to Tokyo -- you know, with all the buildings standing so close together. (laugh) Korean food is very expensive in Japan, so it's great to be able to eat Korean kimchi because I love spicy food. I am disappointed that I only get to stay here for three days.

Captain Funk at work (left) and the cover of his new album in Korea
Q: How did you feel when they asked you to give a concert and release a licensed album in Korea?
Captain Funk: I was very happy. In Japan, my old music released in the 90s is popular but I was surprised that Korean fans like songs released after 2007. Songs like "Weekend" or "Hey Boy, Hey Girl" in particular. For this album, I took Korean fans' taste into account and chose fourteen tracks that are easy to listen to. I have already heard from Korean songwriter and deejay FPM that the club scene in Korea's Hongik University area is great. So I am looking forward to the concert as well.
Q: Songs like "Weekend" and "Hey Boy, Hey Girl" are included in the album "Korea Platinum Edition." They feel more commercial compared to the other songs.
Captain Funk: You are right. "Weekend" in particular is a very commercial track but, at the same time, it has a strong retro feel to it so I am promoting it as the most Captain Funk-ish track. It is easy to understand because it has a lot of refrains and that is the characteristic of funk music. In fact, the kind of music that I had originally set out to make was not this style. My songs were not a hit in the 1990s and I think I became envious of Shibuya-kei musicians who were adored by the public. So for the albums released after the year 2000, I included commercial songs like "Weekend" and "Hey Boy, Hey Girl" and I think that is how my style of music gradually changed.
Q: When you first debuted, you were not called Captain Funk. In 1997, you worked as a techno musician in Italy using your real name Tatsuya Oe and then came on stage as Captain Funk in 1998. Was there a reason you changed your path in music?
Captain Funk: Captain Funk was originally a name of a party that I was putting together with friends. The name 'Captain Funk' was inspired by U.S. comic book characters like Superman and Spiderman. Hosting music parties that played a variety of music such as electronic, hip-hop and new wave, I was introduced to this new world of music. So eventually I was inspired by the parties and started working again as Captain Funk and that is how my musical style changed to Shibuya-kei.
Q: How would you describe your music -- the Shibuya-kei of Captain Funk?
Captain Funk: Actually, Shibuya-kei is not the kind of music that you can define as a single specific genre. Some Shibuya-kei music gets made by mixing up guitar pop, Swedish pop and bossa nova while some stem from old rock music. In my case, I made a new style of Shibuya-kei music by combining new wave, funky, techno and disco music at Captain Funk parties. I wanted to emphasize the retro spirit of Shibuya-kei by introducing the funk elements that other musicians had not attempted. You could say that the special trait of my music is that it focuses on disco music.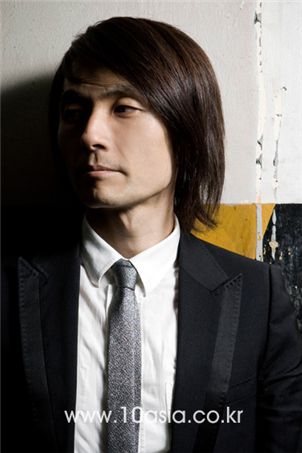 Japanese Shibuya-kei musician Captain Funk [Lee Jin-hyuk/10Asia]
Q: Were you always into disco music?
Captain Funk: Around 1984 through 1986, I was hanging out with guys who were ten years older than me and that is when I first heard disco songs from the 1970s like "YMCA" and "Saturday Night Fever." I didn't have any musical knowledge back then but I was still able to enjoy disco music when I heard it. I started studying music when I entered the 1990s, but to be honest, the joy of listening to music weakened after I started studying music. I want the public to listen to my music the way I had enjoyed music in the 90s -- without any musical knowledge. In that sense, I want to keep on making songs like "Weekend" which touches your heart the moment you hear it.
Q: When you keep making commercial songs, your unique musical style could become more vague. Do you have any worries about that?
Captain Funk: I am trying to keep my style and fulfill the public's taste at the same time. Of course, I know that it is hard to do. But that is the responsibility of a musician and the musical philosophy of Captain Funk. It takes a whole lot of time to make a commercial song like "Weekend." You can make a dance tune in just two or three days but you have to put in a lot of time and effort to make a commercial song that also has high quality. But I believe in making such songs no matter how hard it is. After all, music exists because there are people who listen to it.
Q: How do you work on your songs? Do you write the lyrics and music yourself?
Captain Funk: I don't write the lyrics to all the songs. For "Weekend," I composed the music while Adnan Kurtov, who was featured on the track, wrote the lyrics. When I hum certain bars as 'Nanananana~', he will add the lyrics to them and send them back to me. Of course, I don't always meet with other musicians face-to-face. I tend to finish songs through online meetings. We decided to make the lyrics for "Weekend" about the romance formula between lovers, and we thought it was something even teenagers could enjoy listening to. And in the case of "Get Over You," it has very few lyrics and I wrote all of it myself. I thought foreigners would find the lyrics interesting because they didn't really make sense and one American actually even told me that he thought it was funny.
Q: Is there a Shibuya-kei musician who influenced your style of music?
Captain Funk: Actually, no one among Shibuya-kei artists. But I was heavily influenced by Yamashita Tatsuro, whom people call "The singer of Japan." He is a musician who was ahead of the times by twenty years.
Q: You will be meeting your Korean fans for the fist time at a club near Hongik University. Have you prepared anything special?
Captain Funk: I changed the original DJ Set and selected songs that Korean fans would like. Most of the songs I have arranged are easy to listen to. I also put in several songs that are not included on the album but give off a similar vibe. When I arrange the songs for club performances, they feel very different from the orignal recordings on the album so that people will have fun listening to them. Korean people really love FPM and I hope they love my music as much as they love his.
- Interpretation by Kim Jang-hoon
Reporter : Lee Ga-on
Photographer : Lee Jin-hyuk eleven@
Editor : Lynn Kim lynn2878@ , Jang Kyung-Jin three@
<ⓒ10Asia All rights reserved>