Q: I think you've lost a bit more weight. Is it because of the hernia?
Kim Nam-gil: Hm, because director Lee gives me a hard time? (laugh) I actually slept after eating ramen at five in the morning so it's a relief to hear that. (laugh) I lost weight once for film "Lovers Vanished and just didn't have to gain weight after shooting "Queen Seondeok" for six, seven months. I'm not trying to lose weight but I just do and there are also scenes where I have to take off my clothes so...
Q: How was it working with director Lee Hyung-min?
Kim NG: I miss director Park Hong-kyun from "Queen Seon-deok." Park was someone who is into the details but director Lee is also like that but to the extent that I felt like I was suffocating. So I called director Park recently and told him I miss him. (laugh)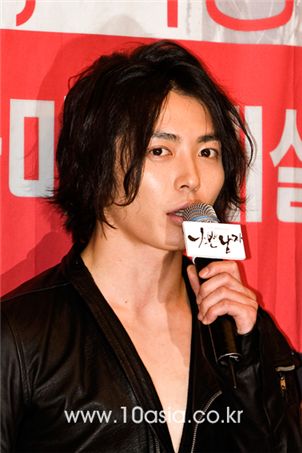 Actor Kim Jae-wook [Lee Jin-hyuk/10Asia]
Q: There are articles mentioning your military entry. How do you think this will pan out?
Kim NG: I don't know yet because nothing has been set. There are cases where the actor has to leave mid-way but I need to wrap up the drama and I'm in a situation where I can't say exactly when I'll be going.
Q: Kim Nam-gil, you're working in a melodrama with married women again. It was like that last time too when you were in "Queen Seondeok" with actress Lee Yo-won.
Kim NG: I was very happy upon hearing Han Ga-in was cast. She's every guy's dream so of course I was happy but I find myself maintaining a distance from actresses who are married, despite my desire to be involved in a scandal and experience the feeling of dating my acting partner. Han actually hates me calling her 'ajumma [Korean term for middle-aged woman].' I said it as a way of complimenting her easy-going and warm personality but she didn't like it. (laugh)
Q: Han Ga-in, many male celebrities pick you as their ideal woman. Does it bother you in any way at all in the sense that you feel that you should take care of your image?
Han: First of all, I thank those of you who picked me as your ideal type of woman.
Kim NG: It sounds like you're delivering an acceptance speech. Sounds like you won the 'Ideal Woman World Cup.' (laugh)
Han: I'm actually very happy every time I win that. And of them, there are some who I too think are very good-looking but I'm afraid they'll no longer have a fantasy over me so I think it would be better that we don't meet. (laugh) I'm more grateful than careful of the fact that they like me. I would like to work with them if I get the chance.
Q: Oh Yeon-su, you're 10 years older than Kim Nam-gil. Does this bother you?
Oh: I worked with Lee Dong-wook in "Sweet Life" and he was 10 years younger than me but I have a young mental age so it didn't really get to me. It rather felt like he was an older brother and I don't feel that Kim is young either. I'm not saying this to make myself look younger -- I'm just immature. (laugh)
Q: Did you feel any pressure over having to shoot 'passionately romantic' scenes? And how did your husband Son Ji-chang respond to them?
Oh: I haven't shot them yet but I had been feeling the pressure because there have been articles written about those scenes since a while ago. But there is a limit to how much you can show on television and Hong-tae is not someone who would love someone in a lukewarm attitude because he is a character who will risk his everything for his love. I think that's why it's being expressed in such a way. My husband hasn't said anything about it in particular because he doesn't really mind what I do but he did talk about "Sweet Life" two years later. He said I "overdid it a bit back then." That's how I knew he had been bearing it in mind. (laugh) My husband actually doesn't mind it that much but he said people around him were asking how he felt. I think it's strange that they would ask such questions. What kind of response do they expect to hear? No matter how much my husband tells me that it's okay, it could still get to him if he keeps getting asked that question. But acting is my job so I don't think we'd ever fight because of it.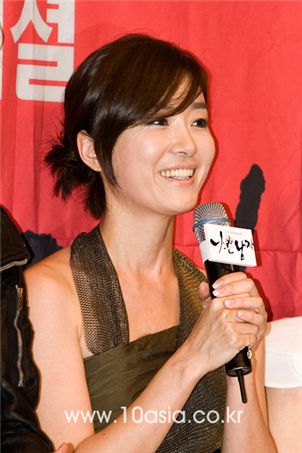 Actress Oh Yeon-su [Lee Jin-hyuk/10Asia]
Q: I think your character is someone who has a family called Hong-tae and a kid but wants to be seen as a 'female' to Gun-wook. Are there times in real life that you wish you could just be a female?
Oh: I'm not that feminine, personality-wise, to start with. That's why I want to be seen as an actress since my job is to act, rather than wanting to be seen as a female. I guess I would want to be seen as a female and not a middle-aged lady when I get older.
Q: Kim Jae-wook, you've mostly worked with male actors in your age range in your previous works such as TV series "The 1st Shop of Coffee Prince" and film "Antique."
Kim JW: Everyone is a female this time except for Kim Nam-gil so I'm very happy. (laugh) I couldn't be any happier about going to set. Most of the people I had worked with before were guys.
Q: I actually meant to ask you about how your chemistry is with Kim Nam-gil. (laugh)
Kim JW: He is just such a great actor to start with so when we went to shoot on location in Japan, I went to watch his shoots even if I had none. There are so many things to learn from him and we talk to each other a lot even while we're in shoot. But I can't quite seem to be able to figure him out -- he'll be serious one moment and be joking around the next -- so he's like a time bomb. Oh, but in a good way. (laugh)
Q: The expectation level for "Bad Boy" is high but it could also easily seem like a heavy subject. Do you have any premonitions or expectations about how well the show will do in terms of ratings?
Kim JW: Ratings are very important but a drama is all about the story so if what we're trying to relay to the audience is something that could easily be considered a heavy subject, then I think it's only proper that we let it stay that way. And when it's done in the right way, I think the show would steal people's hearts, regardless of how heavy or light the topic is. I think such a belief will help us be more confident too.
Kim NG: It's impossible not to become increasingly greedy about the ratings for the show as the date for the premiere nears but I also think it's difficult for an actor to get the chance to work in a drama which has ratings as high as "Queen Seondeok" -- you're lucky if it happens even once during a lifetime. So rather than the ratings, I want to hear that I did good acting in a good production.
Reporter : Choi Ji-Eun five@
Photographer : Lee Jin-hyuk eleven@
Editor : Jessica Kim jesskim@
<ⓒ10Asia All rights reserved>