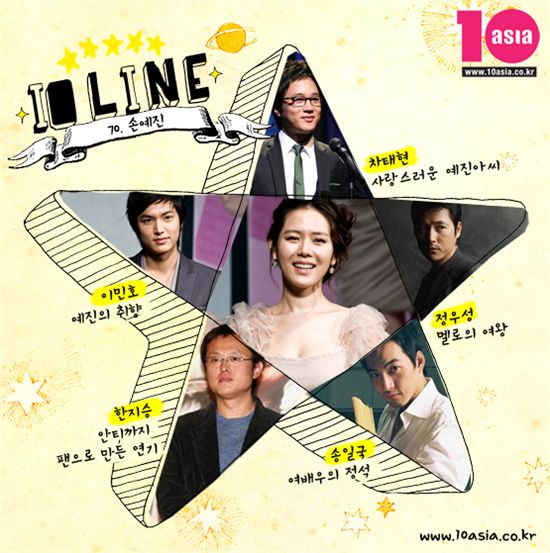 Clockwise from top center: actor Cha Tae-hyun, actor Jung Woo-sung, actor Song Il-kook, director Han Ji-seung and actor Lee Min-ho [10Asia]
Son Ye-jin
Pretty. Popular. She has been hurt because of rumors. But she overcame the rumors through her acting skills. She respects actress Shim Eun-ha and loves actress Nicole Kidman. She makes one wonder what kind of legacy she will leave behind as an actress.
Kim Hye-soo
The main star of the first television commercial Son appeared in. Son felt "so obliged" and "wondered if it was okay to appear in a commercial with such a senior actress like Kim." Due to growing up in Daegu known as a "conservative city," she had no thoughts of becoming an actress even though she "felt something deep down inside" herself during middle school. But she became the first-ever celebrity from her high school on chance of appearing in the commercial and Son moved to Seoul which had "many downtown areas unlike Daegu which only had one."
Park Sung-soo
The director of Son's debut drama MBC's "A Delicious Proposal." He had been holding auditions in search of new actors with potential when he cast Son by chance. And Son rose to stardom with the success of the "A Delicious Proposal." However, Son experienced difficulties because she didn't know the basics that went into producing a drama. And at the start of her career she had to go home after failing to cry on cue for a commercial, tried out for the role again, but ended up failing. During that time she spent most of her earlier years being recognized only for her pretty looks.
Cha Tae-hyun
Her co-star from films "Sad Ballad" and "Crazy First Love." Son Ye-jin proved she could be a commercial success through the two movies as well as with her role in "Classic." Among the three, Son picked "Classic" as the film which represents her -- she was acknowledged for showing solid acting skills because she was able to pull off the role of a comical yet tragic female character at the same time. Instead of all three films leaning toward one aspect such as the innocence or liveliness of Son, they proved she was an actress who can show a wide range of acting, from comedy to crying. Rather than just showing one image, she displayed a strength in films which are romantic yet where she plays characters where she tries to persuade the audience by adding various characteristics to her role. This may be why starting then, Son used her experiences from then to choose her successive productions by taking the following into consideration in the following order: 'character, story, director, co-stars.'
Kang Ho-dong
Emcee. Son Ye-jin made an appearance in the segment titled "Knee-Drop Guru" on MBC talk show "Golden Fishery" hosted by Kang. She went on the show and explained each rumor that concerned her, reflecting the pains she felt because of every rumor. Vicious rumors about her had first begun to spread among the general public after the release of the so-called 'X-File.' During the show Son said, "It's hard living as a 28-year-old actress. I have cried because unintentional incidents and wounds which have occurred outside of acting." Even if the rumors were true, the world becoming "even more harsh when it comes to the mistakes of an actress" and "thoughts that an actress can hit rock bottom at any moment" is wrong. It is not as if Son committed a crime.
Jung Woo-sung
Son Ye-jin's co-star in the movie "A Moment to Remember." Son grew as an actress through this movie. "A Moment to Remember" falls under the same category as her previous works in the sense that the story is fundamentally a melodrama through which she was able to show various images of a woman -- from when she is living her everyday life to when she's in dramatic situations. But in "Moment," she was able to pull off the role of a woman who works, shoot love scenes with Jung, and urinate on herself because of dementia. This female who had been known for her innocent image, left behind that image at the age of 22 and played a character that was older and more complex. Through "Moment," Son learned to "look at people around me and not just at my own acting" and she showed that she can get along with and act alongside an older actor like Jung. She who had said "only love can really move a person," was able to actually touch the audience through her acting.
Song Il-kook
Her co-star in the movie "The Art of Seduction." In the "The Art of Seduction" she played a flirt who danced crazily at a nightclub and acted coy in front of her boyfriend. She succeeded in portraying the character by utilizing rumors about her which made her into someone who is 'fake' and 'coy.' As she herself says, Son has never starred in "a film that brought in five million moviegoers" but she was able to capture the audience in the two films which focused on portraying the relationship of a man and woman with the details that she put into playing the 20 something year old woman who has dementia in "A Moment to Remember" and a flirt in "The Art of Seduction." Son gained moviegoers' trust through her acting skills which showed her exceptional interpretation of a main female character and detailed acting.
Han Ji-seung
The director of SBS TV series "Alone in Love." Son Ye-jin, who had been worried she may be "focusing only on one aspect when there is so much more to show," took on "Alone in Love" although she was told by Han that the drama may never become popular enough to breach the 50 percent mark in viewership ratings. But it turned out to be the best choice for her. Through the long takes of the drama, Son was able to show the details of her character with more depth and diversity than she had done through movies, and she had enough time to fully interpret her character since the show was being produced ahead of time. In particular, her character Eun-ho was not a woman who could be described merely by images such as innocent, vivacious and sad. Eun-ho, who lived a normal life as a divorcee who hurts others feelings at times, was the most ordinary character Son had played to date, yet she had the appeal to make viewers understand and support Eun-ho's life. She was a character who was quite realistic yet never before seen through Korean dramas nor movies. In every scene of "Alone in Love," Son showed acting which was good enough to be called excellent acting and such display of talent mowed down all other talk about her.
Ko Soo
Actor who starred opposite her in film "White Knight." In "White Knight," Son played the role of a woman who asks the man she has loved since her childhood days yet has been unable to meet easily, to commit a murder. That is how different a role it was for Son but the outcome was not great. Due to the fact that "White Knight" also starred Korean actors Han Suk-kyu and Ko Soo and that the mystery thriller pic tried to win over the audience just by its storyline, its failure at the box office should not be blamed on Son. But different from that, Son's acting was unnatural and awkward compared to in her previous works. It may be attributable to the fact that, as she described of herself, "not the kind of actress who improves with each take because of my fast-moving emotions" and "hates fantasies," making her character something more than ordinary and her knowing few details about the character which would make it harder for her to portray emotions. "White Knight" was unable to show Son's strength of creating a vivid character through the chemistry with her co-star because there were rarely any scenes she appeared in with the other actors. Son had several successful productions under her belt over the years due to the good chemistry with her co-stars only in melodramas but other than that, she did not achieve success in other genres. In the future, will Son be focusing on her strengths or try to decrease her weaknesses?
Lee Min-ho
Co-star in the current MBC drama "Personal Taste." "Personal Taste" was neither a dangerous nor obvious choice for Son Ye-jin. Unlike her previous works where she played characters full of charming appeal, in "Personal Taste" her role is someone who lacks femininity. However, Son's character in "Personal Taste" will become more charming and her strengths will be shown and a loving atmosphere is created as the show continues with more scenes with Lee Min-ho. Son was able to portray a better image with the various situations that occurred while living in the house with Lee than in the beginning when she "tried to look ugly." Apart from the execution of "Personal Taste" and the audience's reaction, Son will be able to prove that she will show what she knows how to do. The problem is what happens after that. For someone who is in their late 20s, she has played various melodramatic roles but what will the next choice be for an actress who has been acknowledged for her box office success and acting skills? She could challenge herself with other genres and choose a director and script where she can bring out the depth of the story in a melodrama production that "worries about human relations and love." But despite having undergone all sorts experiences, she is recognized for her star quality and acting skills. What will Son Ye-jin choose next?
Senior Reporter : Kang Myoung-Seok two@
Editor : Lucia Hong luciahong@
<ⓒ10Asia All rights reserved>