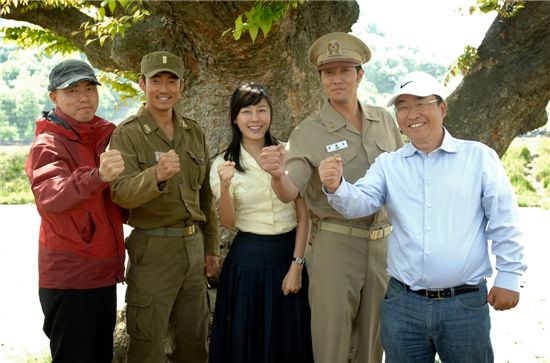 From left, producer Kim Jin-min, actors Yoon Kye-sang, Kim Ha-neul and So Ji-sub, and producer Lee Jang-soo pose during a photo session of a press conference for upcoming MBC TV series "Road No.1" held at the drama's set in the Chungcheong Province of South Korea on May 12, 2010. [MBC]
MBC TV series "Road No. 1" which is set to premiere June 23, has set out on a road which no other show has taken before. It is a full-fledged 20-episode war drama being produced in time with the 60th anniversary of the Korean War and went into shoot with the goal of completing production of the entire show before going on air, a decision made while in its planning stages from three years ago. The two actually do not go separately. It is a blockbuster aiming for good quality, and hence, decided to complete production in advance to avoid facing time constraints. But every new road taken is unfamiliar and difficult to take. That is why more than ever, we become more curious about the intentions and direction the producers want to take with the show. Below are excerpts from a press conference held at the drama's set in the Chungcheong Province where the show's producers Lee Jang-soo and Kim Jin-min sat down to talk about the process of making the show and walking a path never taken before.
Q: One element to the drama will be the Korean War while the other will be the romance between the three main characters. What is the proportion of each element in the show?
Lee Jang-soo: We had originally thought of making the show into a 10-part series so we were going to depict on the Korean War quite realistically but when it was decided it would be a 20-part show, we turned it into a melodrama with more dramatic elements. And we're trying to satisfy both the elements of war and love in the drama. I think you should consider it not being just about romance, but the story of the love and frienship amongst three men and women in times of a war. And at the same time, we're trying to also talk about the issues between North and South Korea, and on a broader sense, about the history of the division of the two Koreas.
Q: Then who was the producer for which element?
Lee: Whatever looks like must've been hard work was done by producer Kim Jin-min and whatever looks easy was shot by me. (laugh)
Kim Jin-min: Producer Lee Jang-soo set the direction for the romance and I mostly shot the scenes where the main characters hang between life and death. But the elements of war and romance have to stay in tune with each other in the overall plan set for the production. We couldn't let the war stand out so much that it would be hard for viewers to watch. What I rather focused more on was Jang-woo (played by So Ji-sub) and Tae-sub's (played by Yoon Kye-sang) friendship. They're close to loving each other. It could sound weird but in the process of fighting so many wars, they develop a strong friendship and become close to brothers. That's what I mainly concentrated on.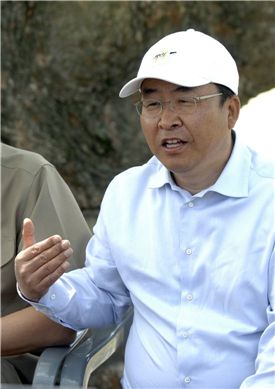 Producer Lee Jang-soo speaks at a press conference for upcoming MBC TV series "Road No.1" held at the drama's set in the Chungcheong Province of South Korea on May 12, 2010. [MBC]
Q: What is a friendship that's close to a love like?
Kim: The atmosphere on set became strange, hard to pin down in words. (laugh) But for men, doesn't friendship seem like a stronger emotion than love? It actually was hard trying to put that on screen in the beginning because the emotions weren't there but as more time passed, I realized how tremendously strong comradeship between two men could be. I felt that it could be an emotion one could carry on until the moment he dies.
Q: And that's why it was important who you cast for the two male roles. Why did you choose So Ji-sub and Yoon Kye-sang?
Lee: When we were in the early planning stages, I told Kim that we shouldn't do the drama if we ended up not being able to cast So Ji-sub. Kim really put in a lot of hard work for casting the actors. After we cast So Ji-sub for the role of Jang-woo, we tried really hard looking for someone to play Tae-ho. The image I had of Tae-ho was someone who has a strong image yet is a gentle person, and that's the vibe I got from Yoon Kye-sang. You'll be able to enjoy things such as an actor's transformations in our show to the fullest.
Q: Both actors have great bodies. Are there any scenes they show them off?
Kim: From the beginning, Lee and I said we can't have the main characters be muscular. The actors had asked seriously whether they have to get into shape but we said they shouldn't since we're not shooting "Rambo." Our show is about how average people living from a certain village get involved in a war, not about people in the special forces. It was necessary to realize that every character are normal people like us.
Lee: In the movie, there is a pond where the military unit had planted rice and then there's a big three that a man and woman had vowed their eternal love for each other. But when the war breaks out, a bomb explodes from under the tree and soldiers' faces plummet into the very rice seedlings they planted. In other words, this is a drama which tries to draw out sympathy by talking about a that is happening right where we're living
Q: Then are there no revealing scenes at all?
Kim: There is no reason to take off your uniform on the battlefield. You have to always be ready to hide or fight so even if it's in the summer, you have to wear at least an undershirt. But it'll be worth looking forward to the romantic scenes. I saw this and that. (laugh)
Reporter : Wee Geun-woo eight@
Editor : Jessica Kim jesskim@, Lee Ji-Hye seven@
<ⓒ10Asia All rights reserved>