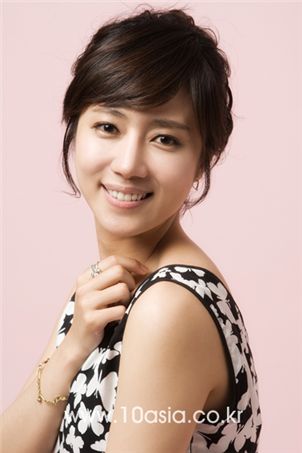 Korean actress Choi Song-hyun [photographed by Lee Jin-hyuk/10Asia]
My name is
Choi Song-hyun.
I was born on April 11, 1982.
I have a jinx where bad things have happened on all my previous birthdays, but this year I was very happy because I celebrated my birthday on set with the staff and other cast members.
My family consists of my parents and my two older sisters.
Sometimes my parents still call me 'baby' because I'm the youngest. (laugh) My oldest sister and I are five years apart and I'm two years apart with my other sister. They are both married and I have two nephews.
All five of my closest friends
got married last year and I'm the only bachelorette. They all met good guys and are living happy lives, otherwise they would have called me up to badmouth their husbands. None of my friends have responded to me asking them to set me up with someone on a blind date. (laugh) I spend my weekends like my character in "Princess Prosecutor," staying home and sleeping in, watching TV or baby sitting my nephews.
The TV program that I like to watch
is "1 Night 2 Days." I absolutely love the show. I laugh out loud whenever I'm watching the show and it has helped me to find my laughter after having been depressed for a while. I also love watching the reruns and even though I know what's going to happen it's exciting to see who will get caught during the games.
I frequently get asked who I like more between "Princess Prosecutor's" character Seo In-woo (played by Park Shi-hoo) or Yoon Se-joon (played by Han Jeong-su).
I think I would like to date someone like Seo but there is something that draws me towards Yoon. However, the thing that I don't like about Seo is that he has a close girl friend like Jenny (played by Park Jeong-ah).
My co-star Han Jeong-su
has an extremely cheerful personality. He is completely different from his character Yoon, but I think he became like that after he lost his wife.
I have actually seen a real autopsy before.
As part of the training process to work as a producer or reporter at a broadcasting company, one has to observe an autopsy. I stayed until the very end even though there were many people whose faces turned yellow or left during the autopsy to throw up.
When I was still an announcer, I became most popular after
appearing in KBS' "Happy Together." The total number of visitors on my Cyworld mini-hompy rose to 300,000. I think it was to the extent that the producers for "Sang Sang Plus" got a bit disappointed about it.
When I was preparing for my role in the film "The Case of Itaewon Homicide,"
I had a lot of things in mind for my character and I would talk about how there were some things that I wasn't able to express properly in the movie. The director told me to watch a comedy film and to rest without thinking about anything. However, it was bit hard to empty my thoughts because I watched "Crush and Blush" that night. (laugh)
Korean singer Seotaiji is my first love.
He made his debut on my birthday when I was in the fourth grade and my sisters and I were his biggest fans. I remember crying while I wrote in my journal how it was so sad that Seotaiji doesn't even know my name when he's the first guy I felt I was in love with at first sight. After I quit my announcer job I decided to emcee at the ETP Festival free of charge because I thought I would get the chance to talk with Seotaiji. (laugh) But I stayed in one location during the press conference because of a sudden schedule change. When the event was over I cried in the parking lot thinking dreams don't come true.
I can't carry a tune
and so I don't go to karaoke bars that often but when I do go with my close friends I usually sing Roo'Ra's "天上有愛" and Seotaiji's "Salute." I usually just shout because I can't sing in tune.
I like to play the piano
and once when I was listening to Isao Sasaki's album, I heard this beautiful string instrument playing in the background. I found out later it was the traditional Chinese instrument called 'erhu' which is a two-stringed fiddle. I had an erhu imported directly from China but I haven't had a chance to get any lessons because I've been so busy shooting the drama.
I would like to go to an award ceremony since I've decided to take on acting.
I received the new star award under the emcee category at the KBS Entertainment Awards, so maybe it'll be possible to get the new star award at the Acting Awards? (laugh)
It might be because I haven't been through enough hardships yet but
I would like to play a role in a historical drama. I want to try to play a role where I need to prepare very hard both mentally and physically. Or an action role where a lot of training is required.
I play the role of a producer from Busan in the movie tentatively titled "Midnight FM" which will premiere in July.
Since I'm a native of Seoul, I practiced their dialect after listening to my lines from the recordings that my Busan acquaintances did for me, and before the audition, I learned how to act like I speak the dialect well even if I'm not exactly good at speaking it from my co-star Oh Jung-se from "The Case of Itaewon Homicide." I'm sure the director must have been worried about assigning the role to me and I too am worried how the film turned out. I will probably be too nervous to go on stage during the press conference at Busan. (laugh)
Reporter : Choi Ji-Eun five@
Editor : Jang Kyung-Jin three@, Lucia Hong luciahong@
Photographer : Lee Jin-hyuk eleven@
<ⓒ10Asia All rights reserved>