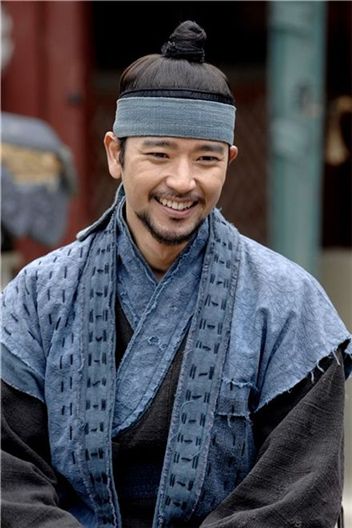 Actor Bae Soo-bin from a scene in MBC TV series "Dong Yi - Jewel in the Crown" [MBC]
He was not always the one who helps the main character. But whenever he took on the role of somewhat of a helper, he would be a reliable one with eyes that contain many indeterminable emotions. That is why actor Bae Soo-bin, whose filmography spans from being a womanizer in film "Girlfriends" to the incarnation of revenge in "Temptation of an Angel," is remembered as a trustworthy man with a disarming smile.
That is also why the songs for traveling on a warm spring day as recommended by Bae, currently appearing as the reliable helper of main character Dong Yi (played by Han Hyo-joo) in MBC TV series "Dong Yi - Jewel in the Crown," are much like the actor himself. Song recommendations by this man who may not always stand out yet will have everyone's back are bound to make you feel less lonely even when traveling alone.
1. Marvin Gaye "What's Going On"
"Marvin Gaye's 'What's Going On' is a song that contains the unique groove of black music. So it puts me in a good music when I go for a drive. I recommend you listen to this while driving on a sunny spring day. Marvin Gaye is from the old days but his music still sounds very sophisticated." To the extent that Korea's top musician Cho Yong-pil commented, "I have nothing to say except that I've become enraptured," "What's Going On" is a song which stands out even amongst Marvin Gaye's entire discography, holding back on his outstanding sense of rhythm and technical skills but still pulling at the listener's heartstrings with his vocals. His spirit of asking "What's going on" with American society which was becoming increasingly ravaged by the Vietnam war heightens the greatness of this song.
2. Delight "Blue Lemonade"
The second song Bae Soo-bin recommended was Delight's "Picnic," a song which goes with the topic of traveling even from its title. "Through its lyrics and melody, the song tells of the fluttering emotions new lovers feel. The rap by Verbal Jint, who did a featuring for the song, adds on to female vocal's crisp voice to put me in a good mood when I'm feeling down. I personally think Peppertone's refreshing music is good for listening on a spring day but I want to recommend 'Picnic' in the same sense." The song is the title track of "Blue Lemonade" which Delight created after recruiting vocal Yumi to their project group which had used the name Garina Project. It directly and frankly expresses how the female is blushing as she gets ready for a picnic by waking up earlier than usual and prepares food for it.
3. Jason Mraz "Mr. A-Z"
Bae Soo-bin said Jason Mraz's "Geek in the Pink" is a song that "the entire public likes." It recently placed in the top ranks of music charts again after male band CNBLUE member Jung Yong-hwa sang the song on MBC variety show "Radio Star" but it would not be doing it justice to classify it as a song which became famous by recommendation of an idol singer. This song, listed in Jason Mraz's album "Mr. A-Z" is so famous that even those who are not fans of him are bound to have heard it somewhere at least once. "When you're going on a trip, it's just better to listen to songs which are exciting and make you feel like stepping down on the accelerator, just a bit. I want to recommend this because I think you should go on a trip feeling 'up' and in a cheerful mood. Of course, I just really like his music too." Amongst the various genres Jason Mraz uses for his music, "Geek in the Pink" is a fun number which reminds the listener of Jamiroquai's song.
4. Sister's Barbershop "The Most Normal Being"
"You may think this is an unexpected song choice. But personally, I listen to their songs when I'm depressed or feeling a bit down. They have a very different vibe from the songs I've introduced to you. But I think the unique languid feeling the music has goes well with a sunny spring afternoon. I guess you could say the music is good for listening to when you want to quietly enjoy the sun and the peace." Could there be a better way of expressing what "The Most Normal Being" is about? And rather than speaking in earnest about one's lost love, Bae's recommendation from the album "The Pretty Thing," proves through Lee Suk-won's indifferent mumbling and guitar strokes which focuses on bringing out the instrument's resonance, how a wide amplitude of emotions can be expressed.
5. Maroon 5 "Songs About Jane"
"Maroon 5's 'Sunday Morning' is a song which will put you in a good mood for the start of the day. If you wake up listening to this song, you'll start joyfully wondering where you would go that day to do what. When it comes to trips, the excitement you feel before you take off on it is as precious as actually going on it. That's why I want to recommend this song." From Marvin Gaye to Jason Mraz to Maroon 5, Bae Soo-bin tended to recommend songs with good rhythm. "Sunday Morning" is also a song that makes your body move with its modern rock music that is mixed with a funky groove. And to fit its name as a 'pop rock bank,' the pop melody is good enough to make first time listeners its fans. That which actually may be Maroon 5's greatest strength.
Reporter : Wee Geun-woo eight@
Editor : Jessica Kim jesskim@
<ⓒ10Asia All rights reserved>