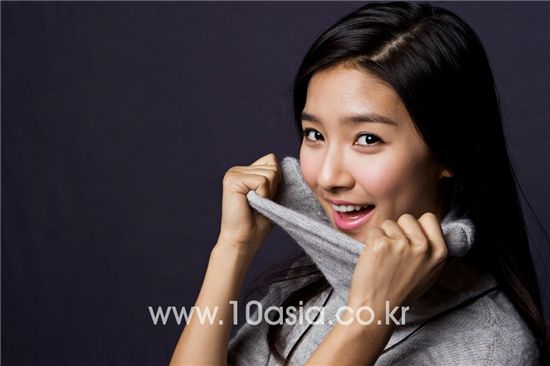 Actress Kim So-eun [Chae Ki-won/10Asia]
They say a picture is worth a thousand words but one's voice sometimes has more power than what one sees. That is why Kim So-eun stands out amongst all the numerous girls that have cheeks as rosy as peaches. Her slightly low tone of voice which is in contrast to her bubbly appearance, discerns her as an actress of good conduct yet one with determination. What stood out more than the dignity cast on her small face or the tears that wet her cheeks was the reverberation and depth of her voice in KBS drama "Empress Cheonchu," and in "Boys Over Flowers," "The Man Who Can't Get Married" and "A Good Day for the Wind to Blow," her voice once again did not go unnoticed.
That is why somehow, it was pleasant to hear her saying, "I think I become more fond of a song when I fall in love with the singer's voice. It's not important how famous that person is." And thanks to staying in touch with music in her everyday life, she is not a mania who seeks out particular music, but has developed an ear to immediately notice familiar voices. "My dad liked to collect LPs so there was always music playing in our house. I used to get told off from him because I would throw around the records like boomerangs when I was immature, but I have ended up listening to his favorite songs with him." And like her dad does, Kim listens to music when she needs solace. She recommended voices that stand out to her in particular.
1. Brown Eyed Soul "Soul Free"
"When I'm down, I don't purposely try to cheer myself up. When you're down, I think letting your emotions hit rock bottom lets you feel better after. That's why I listen more to melancholy songs instead." Kim So-eun, who listens to music depending on her mood and rather prefers music that will increase the psychological state she is in, often listens to lonely ballads when she is alone. Amongst them, she says she enjoys listening to Brown Eyed Soul's album because their elegant melody and splendid harmony helps her rid herself of all other thoughts and swim in her own emotions. "It's amazing how several different voices can create a song. I'm an actor so I too think a lot about how to create good chemistry with other actors. I hope I'll get to experience the thrilling feeling of creating a scene which will seem as perfect as a picture."
2. Jeong Yeop "Nothing Better"
Undoubtedly, it is beautiful to watch different elements come together to create a pleasant form. But no matter how harmonious the entirety may be, there is bound to be a point which stands out. To Kim So-eun, Jeong Yeop's voice is that very point. "Of course I really like Na Ul's voice. But I was beyond exclamation when I heard Jeong Yeop's 'Nothing Better.' I got goosebumps. How could someone deliver his emotions so perfectly through a song? There's a certain energy that comes from it -- as if he is acting out a tough emotional scene. But it's a very difficult song so I can't sing along. I actually do hum along to it when nobody is around but no, I can't let anyone hear it."
3. Whitney Houston "I Look To You"
"I've heard a lot about 'The Bodyguard' but have actually never seen it from beginning to end. I was just a baby when the movie came out. (laugh) But of course I know the theme song very well." The movie "The Bodyguard" was released in 1992. It is impossible that Kim So-eun, born in 1989, would remember the heyday of Whitney Houston's career. But its music still touches hearts and that is why artists become legends. That is also why Kim likes "I Will Always Love You" as well as "I Look to You" which she newly released upon making a return to the music scene last year. "I heard that she held a concert in Korea recently. I only heard about it through the Internet because I was working on a drama but I heard her singing skills weren't like they used to be. So I felt sorry for her. But she still has an attractive voice when I listen to her on the album."
4. Yozoh "Traveler"
It is impossible for a young lady who has just entered her 20s to be depressed all the time. And in spring, Kim So-eun says her heart sometimes suddenly starts beating faster. "You know how there are times where if the weather is good, your mood will brighten up too. This song is good for those kind of days," she said, recommending Yozoh's "Egugugu." Kim said she even registered the song, which cutely sings of one's boyfriend, as the background music to the mini-homepage of her social networking Cyworld account. "I like Yozoh's music because it's not too difficult to listen to and has a vibe to it that is different from music we usually hear on TV. I also like her voice which seems as though she's singing as if she's talking and I end up humming along to her songs because the lyrics are so cute."
5. Crying Nut "The Cow on OK Farm"
Kim So-eun will also elevate the level of her emotion of happiness. That is why when she is elated about something, she will enjoy that feeling to the fullest by singing Crying Nut's songs. No artist's music is better for when you want to scream and move your body to music without thinking in particular. "Their music is good to listen to but I like it more because it puts you in a really good mood when you sing them at karaoke bars. I like 'Speed Up Losers' but I've recently been singing 'Luxemburg' quite often too. More than anything, I think it's great that everyone can join in and sing along to it excitedly. It's also easy to sing along to but you won't get sick of it either. I guess simple is the answer sometimes."
Reporter : Yoon Hee-Seong nine@
Photographer : Chae ki-won ten@
Editor : Jessica Kim jesskim@
<ⓒ10Asia All rights reserved>