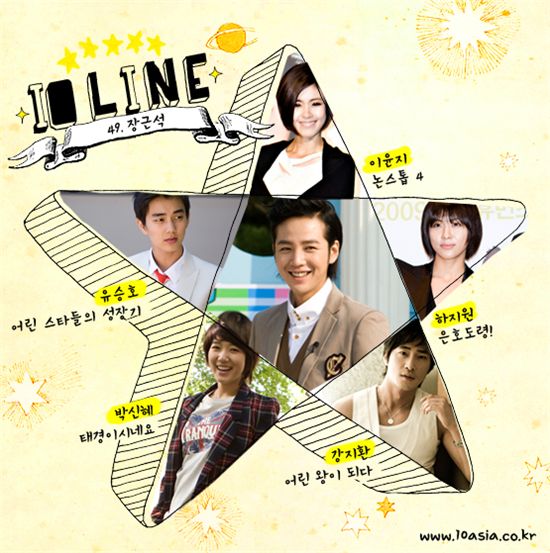 Clockwise from top center: actress Lee Yoon-ji, actress Ha Ji-won, actor Kang Ji-hwan, actress Park Shin-hye and actor Yoo Seung-ho [10Asia]
Jang Keun-suk
From an early age, the world of entertainment was his workplace. He was surrounded only by adults. Even at a young age he made a lot of money and his wish was to have a "normal part-time job." He spent his teenage years as an 'idol' who acts.
Jang Hanna
Child actress who played the role of Jeong Nan-jeong for SBS drama "Yeoincheonha." Jang Keun-suk played the role of Jeong's half-brother. Jang began his career in entertainment when he beat the odds of 1:25,000 to win first place in a beautiful child contest. However, his parents were not able to pay much attention to his career because they were busy with their fish farm business in Danyang in the North Chungcheong Province. So up till fifth grade, Jang went to a school with only 13 students near the fish farm and whenever he had a shoot, he would go to Seoul carrying his own suitcase. Since Jang moved to Seoul when he was in fifth grade, his parents told him to solve his problems on his own including finding his way home by himself after school. Even though Jang wanted to rebel against his parents he thought about how he had to "be at the broadcasting company by 9 a.m."
Kim Jong-hak
The director of SBS TV series "Daemang." "Daemang" was the first most serious role Jang took on and through director Kim he learned how to do real acting. Growing up as an actor, he learned how "reading scripts sitting cross-legged in school" would get him punished and made friends he calls his 'pillars.'
Lee Yoon-ji
His co-star in the MBC sitcom "Nonstop 4." While Jang was worrying about how he should go about his transformation into an adult actor, he was planning on going to New Zealand to study aboard during his high school years. But his plans were cut short after being offered a role in "Nonstop 4." He played the role of the cunning and fast-thinking freshman. This role was well-suited for Jang who was in between being a child actor and an adult actor. "I don't have any regrets about not having lived a normal life because I played a lot when I was younger" and this cute and precocious adolescent played a character who knew a lot about the 'adult world' in "Nonstop 4" which separated him from other actors his own age. When Jang was 18 years old he said in an interview, "Since I began working at an early age, I was surrounded by those who were older than me. I think I have a more mature personality than other 18-year-olds."
Ha Seok-jin
Jang's alumna at Hanyang University. They planned and emceed the school's festivities. For Jang, college was "a new world." He became more recognized for his role in "Nonstop 4" but was very worried that he was falling behind his fellow actors, so he tried changed his form of speech and actions because he wanted to become an adult quickly. However, Jang, who had believed that he was a good actor since he even took the location of cameras into consideration, became disappointed in his acting skills after starring in two musicals. That is when his greed for acting grew and he decided to major in theater and cinema. Since his freshmen years he created many memories by attending his classes, going on overnight trips with his colleagues and going on blind dates. His college life was different from others' but he spent time for himself in his 20s. Except for the fact that it would have been impossible anyway for him to have had "a regular part time job."
Ha Ji-won
Female star of the KBS series "Hwang Jini." At the time when Jang was shooting for "Hwang Jini," he was confused between his identity as an "entertainer" versus "actor." But he found the answer to this question through "Hwang Jini," creating a lasting impression with his role of young Eun-ho who was heavily in love. The audience accepted him, who was somewhere in between a child and adult, which let Jang slowly become an adult.
Jung Jin Young
The actor who appeared in films "Happy Life" and "The Case of Itaewon Homicide" with Jang. Jang picks "Happy Life" as his "actual film debut" through which director Lee Jun-ik said "Jang was able to grasp the movement of the camera like an experienced actor. Unlike his young age his face has a sort of pathos to it." What Jang really learned from this film was working with a galaxy of senior actors. At the time, he enjoyed drinking with the senior actors and realized the importance of compatibility. For his role as a suspect in "Homicide," he naturally melted into the role by fully pushing down his own emotions. The young man who always caught the audience's attention had learned to adapt in the adult world.
R-STARS
The racing team that Jang belongs to. Jang's dream as a young boy was to be a car racer and hopes to open a car repair center when he gets older. He also frequently says maturely, "When I become 40 years old, I'm going to buy a building and set up my very own entertainment agency." Such demeanor can be favorably interpreted that he is a deep thinker but, it may seem like he is 'showing off' when he overdoes it. The remarks that he posted on his mini-hompy such as "Lying lazily under the warm sunlight while accompanied by the music of Andre Gagnon," made netizens' stomachs turn and made him into "show-off Keun-suk." But, in fact, Jang's acting was never the kind that makes anyone feel uncomfortable and he himself has said, "Everyone has a laugh when reading their old journals. The things I had written, I had contemplated about at the time but after a while, they are really nothing." It is not such a big deal for a young man in his early twenties to do some showing off on his mini-hompy and like it is for most actors, as long as he shows good acting work, people will forget everything else about him. Jang Keun-suk once said that his hobbies, such as cars, music and looking for pretty coffee shops, are "like candy that stops me from crying."
Kang Ji-hwan
His co-star in the KBS series "Hong Gil-dong, the Hero." Jang played the role of Chang-hui who grows up to become a king who later struggles between reality and ideals. It was impressive to see how Jang was able to maintain the serious personality of his character Chang-hui by pressing his voice down like actor Lee Byung-hun's whose voice and gaze he says he so likes. But the role could have also easily left the impression that it is too grave for him -- barely being 20 years old but having to play a character who feels what love is for the first time while being a king who cannot get anything done. In MBC's "Beethoven Virus" he played the role of the student who was in conflict with Maestro Kang (played by Kim Myung-min). But the overwhelming acting by Kim gave no room for the audience to notice the acting skills of any other actor. Jang had kicked off his career as an adult actor but was faced with the problem of having to find his own way to digest "adult-like" and "heavy" roles.
Park Shin-hye
His female co-star who starred in SBS' "He's Beautiful" and the Etude make-up commercial. The two started their careers at an early age, they started to grow up, and finally appeared as child-like idols in "He's Beautiful." For the role of Hwang Tae-kyung, Jang made sure the character wore the clothes that he tailored. Viewers may have been reminded of the 'show-offy' side to Jang who played the charismatic leader of an idol group but he put his everything into it, even making fun of his own character who was overly stiff all the time to bring the character to life. His ability to maintain the fundamental traits of his character -- acting both coldly and considerately towards Go Mi-nam (played by Park Shin-hye), how he acts differently toward Hey (played by Uee) versus his fellow band members -- all expressed differently, made Jang seem like 'Maestro Kang Jr.' The way he laughed at Go Mi-nam made an impact because it was an image created by Jang which one would not expect to see from Hwang. Jang was finally becoming the good actor that he had wanted to become, playing roles which reflect his age and position.
Yoo Seung-ho
His co-star in the Tooniverse show "Alien Teacher," which Jang felt "was a really fun production" and when he watches again, will "watch from start to finish." Yoo also made a cameo appearance in "Minamishineyo." The two live a different life from other child actors in that they received the full celebrity treatment at a young age. That is why Jang "didn't have a chance to experience puberty" and "is responsible for how he pretended to act like an adult during his teenage years." Jang is different from other teens because he grew up as a star and figured out the solutions to his own problems. His role in "Minamishineyo" allowed him to discover his age and current acting abilities. Hwang Tae-kyung became an adult through Go Mi-nam. Jang grew up through the role of Hwang Tae-kyung not as a child or an adult but as a person at just the right age.
Senior Reporter : Kang Myoung-Seok two@Editor : Lucia Hong luciahong@
<ⓒ10Asia All rights reserved>