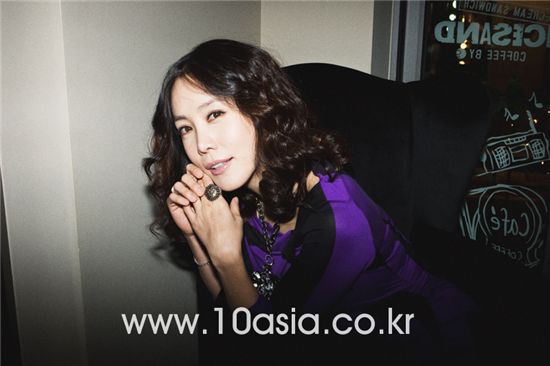 Actress Kim Jung-eun [Chae Ki-won/10Asia]
'Ambition' is not the first word that pops into mind when one hears the name Kim Jung-eun. Despite the sensational debut she made as a queer patient with a shaved head in MBC TV series "Sunflowers," the image she has established as a star is the actress who is always cheerful and full of life.
She was the short-tempered yet loveable, and slightly aggressive yet kind-hearted youngest daughter of the mafia in film "Marrying the Mafia" (2002). And after SBS drama "Lovers in Paris," the audience identified her with her character Tae-young which brought her much glory and fame yet also summed up her ten-year career with an image she said she "wanted to overcome."
That is when she came across "Sarangni," a film through which she could attain her desire. Kim Jung-eun became In-young who was no Cinderella and had no reason in her life to laugh out loud. She became a teacher at an academy who is tired from everyday life yet becomes excited about love. But Kim's career did not change dramatically after "Sarangni." She came back as a warm-hearted doctor in "General Hospital 2" (MBC, 2008) and is now the good-natured host of her talk show "Chocolate."
Kim, who knows what she is good at and what the public wants, does not hide her desire to "become better at what I'm already good at, as much as I am doing what I want to do." Like Kim, who constantly tears down and builds up different images, her movie recommendations go back and forth between the Kim in reality and Kim who longs to be madly in love. Kim, who said, "I like movies which contain powerful and passionate love because it can't be like that in reality," recommended love stories which give off different vibes every time she watches them.
1. "Sarangni"
2005 | Jung Ji-woo
"It was a misfortunate film which ended its run so early that nobody really got to watch it. (laugh) Its tentative title was "The men who follow me around like crumbs of cookie" -- doesn't it fit so well? I actually watched it again quite recently and I got a feeling from it that was different from last time. I cared more about how the world sees me, how people see me, when I watched it before. That's why I had interpreted character In-young as feeling, 'I'm not asking for your understanding but I'm sorry if I did you any harm.' But this time, it felt that she was saying, 'Let's go about living today first.' I interpreted her as thinking that she wanted to live today to the fullest, that it would be greedy hoping for things in the future too. It was interesting."
In-young (played by Kim Jung-eun) does not let go of her memory of her first love which she experienced at the age of 17 but keeps it in the present progressive form even at the age of 30. She remains the 17-year-old she was, falling in love with Lee-suk (played by Lee Tae-sung) who she believes has the same name and face of her first love, when the real Lee-suk (played by Kim Jun-sung) appears in front of her. What goes on in her mind the night she is surrounded by her men?
2. "The Piano"
1993 | Jane Campion
"'The Piano' is a film you'll feel completely different about depending on your age. The first time I watched the film, which was in high school, I didn't understand Ada. But I finally thought, 'Oh, that's what love is,' after watching it in my late twenties and after I turned 30. And the strange thing is that I become captivated with musical instruments and musical prodigies in movies. I think it's because I'm not gifted -- I don't gain anything unless I put in the effort for it. (laugh) When I look at Ada who cannot hear or speak but plays the piano like a genius, I cannot help being in awe. That's why I also think this movie has the best soundtrack."
To Ada (played by Holly Hunter), who traveled to New Zealand to marry a man she does not know at all, the beautiful beach is probably close to a place of exile. Before Baines (Harvey Keitel) appears, the piano was Ada's only object of desire. But even though she loses her finger and piano after meeting him, she earns the life she had lost. Just like how a bright light dawns upon the dusky beach full of fog the moment she takes off for her new life.
3. "La Pianiste"
2001 | Michael Haneke
"Erika is an extremely perverted and strange woman. That's why she can't respond to her young student's insistent love for her. Her relationship with her mom is also a problem. She hasn't done anything by herself before and lives with her mom even when she's in her forties so imagine what she would be like. The man ends up leaving the woman after hurting her a lot. But do you think that they really loved each other? No matter how much I watch it, it's a movie I can't just watch sitting still because it shows how someone's emotions hit rock bottom. Moviegoers who like stimulating films that make your heart pound and beat faster, even if it may be hard on you, will like this movie."
A piano professor in her forties who looks her age and lives with a mother who looks through her bag when she comes home. Erika (played by Isabelle Huppert), whose desires are so twisted that they do not suit her romantic occupation as a pianist, encounters a young student named Walter (played by Benoit Magimel) who one day claims he loves her. But their once beautiful relationship takes an unexpected turn. Director Michael Haneke lays forth some destructive questions about love and desires which nobody can give a clear answer to. The film won the Grand Prix and awards for best actor and actress at the 54th Cannes Film Festival.
4. "Lust, Caution"
2007 | Ang Lee
"I can't forget the look Tony Leung had in his eyes. I can't forget his expression from the last scene. The first time I saw his expression, I thought he was thinking, 'Ah, it's love. The woman will be executed right now.' So I was thinking he must be so pained but my interpretation changed the more I watched it. A new life had started for Tony Leung after meeting the woman so I decided his look meant that he is scared to go back to the times when he was without her. Anyone who has ever been in love before will understand but when you break up with someone, the empty space that person leaves is harder to bear than the fact that you are no longer with that person.
Chinese moviegoers went all the way to Hong Kong to watch the full version of "Lust, Caution." And just two years after Ang Lee won the coveted Golden Lion at the Venice Film Festival, he won the award again with "Lust, Caution." Every fact surrounding the film is unprecedented but it was probably the most unprecedented choice for main cast Tony Leung and Tang Wei. Tony Leung, who betrayed the good-natured image he had built up for a long time, and Tang Wei, who took on a challenge which is difficult for an actress, are worthy of enjoying the honor.
5. "In the Mood for Love"
2000 | Wong Kar-wai
"'Tony Leung, who was great in 'Lust, Caution,' is really a fantastic actor. His eyes in particular have this empty look which makes even your own mind go blank. It's actually more difficult for actors to empty out their minds than fill them in. The hardest thing is standing completely still in front of the camera. You feel like you should do something when you hear 'Action!' (laugh) But Tony Leung expresses everything with his eyes even when he's standing still. I watch "In the Mood for Love" at least three times a year too, just like I do with the other films I've mentioned so far. I'll watch them alone or watch it to show it to people who haven't watched it yet. When I get a boyfriend, it's a movie I always make him watch too. (laugh)"
Chipao, red lipstick, noodles, steak. These are the images which pop into mind when thinking of "In the Mood for Love." Cho (played by Tony Leung) and Lai-zhen (played by Maggie Cheung) who have no choice but to stop loving each other, instead leave behind some excruciatingly beautiful scenes. The two who brush past each other on the way to buy noodle. Lai-zhen's strikingly beautiful chipao and red lips, the steak plate from their date. But as time passes, Lai-zhen has to look out the window and reminisce on the time their love was the most beautiful and Cho buries his secret in Angkor Wat.
Reporter : Lee Ji-Hye seven@10asia.co.kr
Photographer : Chae ki-won ten@10asia.co.kr
Editor : Jessica Kim jesskim@asiae.co.kr
<ⓒ10Asia All rights reserved>