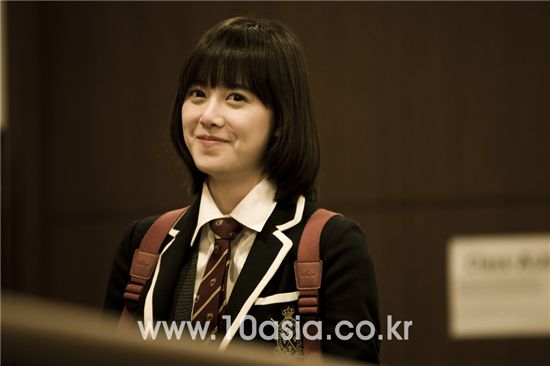 Actress Ku Hye-sun [Lee Won-woo/10Asia]
She became famous on the Internet first for her beautiful looks, she then debuted through a sitcom, she also emceed for a music show and she starred in one of the most popular dramas last year. She also played the female lead role who speaks in the dialect of ethnic Koreans from Yanji City in a daily drama and appeared in a historical epic while wearing a hairpiece weighing over several kilograms at the young age of 20. She has also written over 100 songs. That is how Ku Hye-sun surpassed everyone's expectations. Nobody expected her to pull off all those roles and it did not take long for her to prove she made the right choices.
Ku is now 25 but she has a wide range of roles under her belt. And the Ku we saw in "Boys Over Flowers" last year was a result of her various experiences -- they helped her learn to harmonize with other actors her age. And the explosive interest in "Boys Over Flowers" have led viewers to glance at her other careers too. Fans have been taking a renewed interest in the singing ability she showed through an reenactment of musical "Grease" at a year-end awards ceremony in the past or the fact that she composed the music to a short film she had worked on. Ku plans on releasing an album one day, containing all the songs she has written so far. That is why Ku recommended songs she would listen to during the short vacations she can squeeze in between her various jobs.
1. Jason Mraz "We Sing. We Dance. We Steal Things."
"I don't think it would be accurate to use the word 'cool'... I think his music is one percent incomplete but that he did it on purpose. I like how he doesn't impose his emotions on the listener, whether it be feelings of happiness or sadness. It allows me to creep into that one percent of room he has left and indulge myself with my own thoughts. I like music which makes the listener become engrossed with the emotions the musician has created but I also like music, like this, which allows one to observe from a slight distance." That was actress Ku Hye-sun's introduction of Jason Mraz's "We sing. We dance. We steal things." This remarkable musician, who with an extraordinary sense of ease elaborately mixes various genres into his pop-like music, may be the best choice for actress Ku Hye-sun who is constantly having to juggle her various jobs as an actress, director and songwriter. She then picked "Lucky" as the best track from the album. "I think this is what his appeal is -- being able to express both sorrow and at-ease composure."
2. Maroon 5 "Songs About Jane"
The reason Ku's second choice of album was Maroon 5's "Songs about Jane," also highly popular in Korea, was because she had been in a band during middle school. "Back then, I used to copy songs by artists like Rollercoaster, thinking I would want to become professional musicians like them one day. I liked bands like Rollercoaster in particular who could sing a wide range of genres very comfortably. It's the same case with Maroon 5. Their music is balanced -- they don't lean toward a particular genre such as rock, blues, funk or pop. I like the composure that comes from their balanced music." Ku said she likes Maroon 5's album "Songs about Jane" in particular, and also their song "This Love" from the record which has been loved by many Koreans, but more so because it contains a deeper and richer sensitivity of genres such as the blues and funk. "I like 'This Love' but this song's delicateness moves me much more -- 'She Will be Loved.'"
3. Nell "Let's Take a Walk"
The third album Ku picked was Nell's special album "Let's Take a Walk" containing newly arranged versions of their songs. The album, which sounds as if it is recommending its listeners to take a break, further highlighted the sentimentality contained within the melody of Nell's songs by focusing on its acoustic sound unlike in its previous releases. "I was taken aback when I first heard this album. I like their other records too but this one made me feel stronger about them. It was as if it was revealing what the real melancholy sound to their music was. I still listen to the album from time to time when I want to just become absorbed with my own emotions while at a mental state of ease." Ku chose song "Good night" as her top choice from the album, adding that she hopes other listeners too will be as moved as she was after listening to the original version first.
4. Jack Johnson "Sleep Through The Static"
A famed surfer, environmental activist and someone who records his songs in a studio which runs on pollution-free solar power generation. No other musician would be better suited for your vacation in nature. Ku too is a fan of Jack Johnson who creates his music from within nature. "If I went on a vacation, and if I went to an island, I think I would listen to this album while looking up at the night sky. Many songs sing of the joy one feels at a vacation spot. But Jack Johnson surpasses that and let's you feel nature exactly as it is. As if you could almost hear the wind or smell the sea. And that leads to me thinking about the me from deep within. I really like that infinite peace and meditating." During times where the world is full of various stimuli, Ku seemed to receive consolation for her life in the city by listening to Nell's calming music. That is why her choice started with Johnson's song "All at once."
5. Lee Sora's "SoRa's 5 Diary"
"Lee Sora is the best female vocalist. But I hope many of you also acknowledge her as the best female producer. " Ku chose Lee Sora's album "SoRa's 5 Diary" as her last choice. Music is what she wants to do most when she has even the shortest break possible from her job as an actress. And Lee Sora is also one of Ku's role models. It is because amongst Korea's pop musicians, she is the female vocalist and producer who most clearly projects her ideas and emotions into her album. "A vacation isn't necessarily a time you have to spend resting. It's ultimately about gaining time to reflect on yourself but I wonder how many other albums look deep into themselves as her. And I think 'Sharry' is the best amongst the songs. I too, want to write a diary on what my heart feels. Although I don't know if I'd do it well. (laugh)."
<ⓒ10Asia All rights reserved>