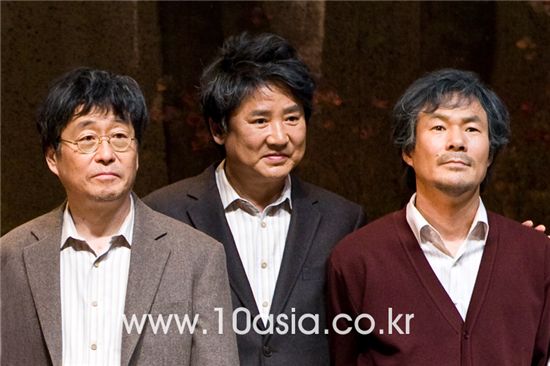 From left, actors Kim Chang-wan, Lee Young-ha and Oh Kwang-rok [Chae Ki-won/10Asia]
Press conference for the play "A Nap"
The meeting of a film director and a theatrical play. The press conference for the play "A Nap" -- the second project of the "Director comes to the stage" series -- was held February 9 at Seoul's Baekam Art Hall. Based on the short story of the same title by Park Min-gyu, "A Nap" is a theatrical play directed by filmmaker Hur Jin-ho, who is known for his unique lyricism seen in films such as "Christmas in August" and "One Fine Spring Day". The play depicts a romance between two characters in the twilight years of their life -- the shy boy Young-jin and the girl Yi-sun who was everybody's sweetheart -- and goes back and forth in time, from the past to the present. The play has drawn much attention not only because it is directed by filmmaker Hur Jin-ho but also because of its cast; veteran actors Lee Young-ha, Kim Chang-wan and Oh Kwang-rok will play the lead role of Hahn Young-jin while Super Junior member Kim Ki-bum has been cast to portray the boy version of Young-jin.

Scenes from the play "A Nap" [Chae Ki-won/10Asia]
The boy Young-jin (played by Kim Kibum/Lee Joo-seung) meets and falls in love with the girl Yi-sun (played by Lee Sena/Park Ha-seon) while he was hanging around with a friend in front an all-girls' high school. But Young-jin is clumsy, even when he is merely handing Yi-sun an umbrella on a rainy day. A long time passes and Young-jin (played by Lee Young-ha/Kim Chang-wan/Oh Kwang-rok) and Yi-sun (played by Seo Ji-young/Lee Hang-na) meet again at a nursing home in their hometown. The shy boy has turned into an old man suffering from urinary incontinence, diabetes and myocardial infarction while the shining, heavenly girl has been stricken with Alzheimer's disease. Calmly and slowly, the story plays out the two characters who reflect upon their dopey, naive years and who, little by little, become more like each other. Through the romance of Young-jin and Yi-sun, "A Nap" shows the audience what it is like for two people to be together and tells them that, in these hectic times, we have lost the lyricism and forgotten how to be happy about living a slow, small life. The play "A Nap" is scheduled to run at Baekam Art Hall (located in Samsung-dong, Seoul) from January 26 thru March 28. The following is an excerpt from the joint interview with the "first-time newbie" theater director Hur Jin-ho and the actors who play Hahn Young-jin and claim that "being sixty does not mean we are about to die, we are still young".
Q: Director Hur Jin-ho is directing a new genre with this play "A Nap". What was it like working on a theatrical play?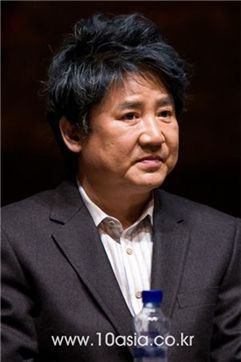 ActorLee Young-ha [Chae Ki-won/10Asia]
Hur Jin-ho (Hur): I was like a true beginner in the genre because I had not seen many plays in the past and never studied about theater. When I was asked to direct the play, I worried whether I could do a good job in a new genre. After working on the play, I learned that what was more important was the chemistry with the staff and with the actors, just like it is on a film. I think we have become like war buddies through working together. (laugh) Everyday, I had drinks with the staff and with the actors and talked a lot about the play. Compared to making movies, the feeling of everyone working together as a team was stronger and I felt much happier in that aspect.
Q: "A Nap" is about the first love of character Hahn Young-jin. Did you think of certain people from your past while you were performing?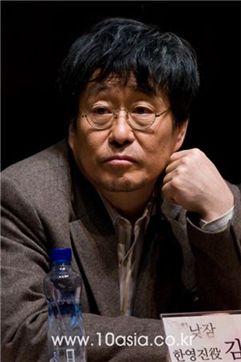 Actor Kim Chang-wan [Chae Ki-won/10Asia]
Lee Young-ha (Lee): Everyone has a first love, I have one too and I think about her when I perform. Especially in this particular play, everything about me is being expressed because my life up to this point has been similar to the life of Hahn Young-jin. The young characters in the play, Young-jin and Yi-sun, made me think about my first love and wanting to find her again but everyone told me not to. (laugh) They said meeting her again would be worse than not having met her at all. So i just decided to keep her in my heart.
Kim Chang-wan (Kim) : I was too busy to think about my first love but I want to relive the memories of first love, which gets more vague with time, through this play.
Oh Kwang-rok (Oh) : I had a crush on a girl when I was in fourth grade. I remember calling out her name on my way home from school, where there were flowers and streams along the roadside.
Q: All three of you play Young-jin and you are all about the same age. If you were left alone in a nursing home like Young-jin, who would you want to see near the end of your life apart form your family?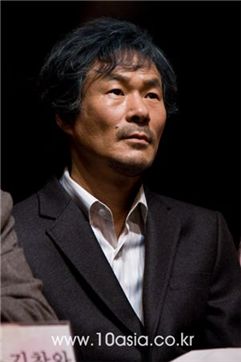 Actor Oh Kwang-rok [Chae Ki-won/10Asia]
Kim: Young-jin has his first love to care for him during the last phase of his life. If I were in such situation, I think I would do with a warm hand to hold, rather than a first love who comes and saves him like a salvation. Whether the hand belongs to an old lady, a caretaker or a child, I think I would desperately want a warm hand to hold my cold hand.
Lee: Like Young-jin in the play, I think I would like to be with a woman wearing a red dress and share a romance in our twilight years together.
Oh: I have been to many nursing homes and hospice hospitals. What Kim Chang-wan said really hits home to me. Working on "A Nap", I dream about experiencing puppy love despite feeling heartbroken and tiresome and even imagine a romance with the woman in a red dress. I would like my end to be peaceful.
Q: Super Junior member Ki-bum is appearing in his first play with "A Nap". Why did you choose to do this play?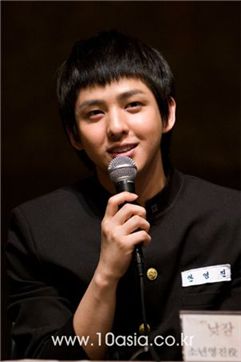 Actor Kim Ki-bum [Chae Ki-won/10Asia]
Kim Ki-bum: I was very fearful when I first got the script because I had never done a play before. Like director Hur Jin-ho, I had never studied or enjoyed a play, so I didn't have any confidence. But I wanted to feel the satisfaction of acting under the direction of Hur Jin-ho. Since this is a first time for both of us, I thought it might be fun to do it together and so I'm working hard.
Q: You play the young boy version of Young-jin and his ego. The two characters are the same person but like different characters.
Kim Ki-bum: I play the Young-jin from childhood years and the ego of the adult Young-jin. I tried to bring out the freshness of youth with the younger Young-jin and I think of the ego Young-jin as a guardian angel who guides him in his heart when I am playing him.
Q: The play is based on the short story "A Nap" by Park Min-gyu. How is the play different from the book?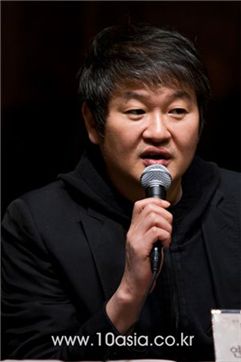 Director Hur Jin-ho [Chae Ki-won/10Asia]
Hur: I had read the book before I was offered to direct the play and I thought it was very entertaining and loved the story that it tried to tell. So i tried hard to stay faithful to the book but I created the ego of Young-jin for the play. People can look at their old selves and think back on their younger years, and sometimes you even talk to yourself, "Why did you change so much?"i wanted to express that self-to-self conversation through the ego role of the character. It was a difficult decision to make but that is how I tried to go in a different direction from the book. Another different element is the character Dong-pil, who is friends with both Young-jin and Yi-sun. He is not that close of a friend in the book but I made him into a very very close friend, and we focused on their friendship as well.
Q: What are your personal feelings about performing in "A Nap"?
Lee: "The Bridges of Madison Country" came to mind, which I had read a long time ago. I thought about wanting to experience a romance in the twilight years, and I got to do that with this play. When I am performing, I think a lot about living a more vigorous life in the remaining years, rather than just adapting and surrendering to the life that I have.
Kim: "A Nap" is full of lyricism that I have not recently experienced firsthand or read in a book. I feel like I read one book over a period of three to four months, from the rehearsal sessions to the performance.
Oh: An old man who has ended up in a nursing home meets a woman who lights up his heart. "A Nap" shows that, like the story of its two characters, that old heart-fluttering feeling does not go away even when you get old. It was a time that made me think of such things.
Hur: We would always go drink rice wine after rehearsals and talk about the play. I remember us having a discussion about what the story of "A Nap" is. They were happy times. "A Nap" is a story about old people but younger viewers can really relate to the play as well. It reminds you of your first love and I hope many people come and see it. I think that's the really important thing. (laugh)
Reporter : Jang Kyung-Jin three@10asia.co.kr
Photographer : Chae ki-won ten@10asia.co.kr
Editor : Lynn Kim lynn2878@asiae.co.kr
<ⓒ10Asia All rights reserved>