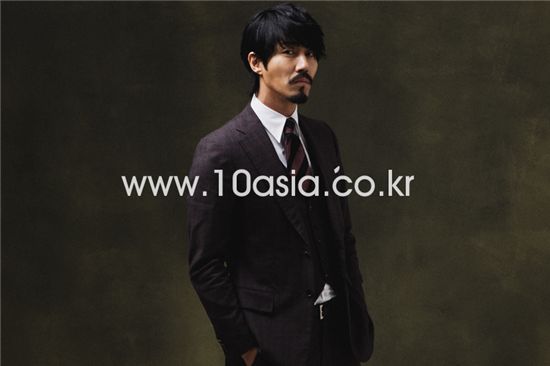 Korean actor Cha Seung-won [Chae Ki-won/10Asia]
At what biological age does a man's masculinity reach its peak? Many would guess the answer would be in their 20s, when the body is at its physical peak or in their 30s after they have matured more. But if you met actor Cha Seung-won, you would come to the definite conclusion that it is at the age of 40. "I put in a conscious effort to keeping my body in shape as an actor, but I can't help feeling that I have aged. The wrinkles around my eyes when I laugh... man." That was the modest response which came from Cha who has an unchanging statuesque figure and a beard like that of a foreign actor's. However, he who can even pull off the ever-growing number of wrinkles in style, has surely started to serve as the model example to a new form of male actors.
A model-turned-actor. It is one of the natural steps taken to become an actor nowadays but extremely rare when Cha first started his acting career 12 years ago. His presence alone looks like something from a picture but rather than using his stunning appearance to his advantage, he broke expectations and rather took on comedic roles. From such films as "Kick the Moon", "Jail Breaker" and "Teacher Mr. Kim", Cha has proven he can make the audience laugh through such roles by covering up his model-like catwalk and instead wearing sloppy tracksuits, a prison uniform and last season suits. Cha is most often associated with the word 'cool' but he has realized eight years later that he finally has the confidence to fulfill such 'cool' roles. "If I was still in my 20s, I would probably have tried to just show it all with my eyes but I have gained more experience and I'm older now so I think I'm ready to take on roles that look cool in everyone's eyes."
Through the various characters he has played, starting as the cool-headed detective in the movie "Blood Tears" or the well-suited prosecutor in "The Big Scene," to smokey-eyed smart criminal in "Eye 2008," Cha has paraded the big screen while playing characters which the viewer would never meet in daily life. And during that time, this hopeful young actor in his 20s who used to reject the beauty he was born with, was able to become a real man who is trusted by the audience and still manages to earn the admiration of his viewers for his still-beautiful physique. As this actor ages, instead of playing the role of "someone's father or the gut-bearing older man, an attractive man" are the role he wants to play. And his most effective anti-aging solution is movies. Whenever he has free time, Cha watches 20 DVDs a day. While watching those films, he is envious of his senior actors who are still fabulous and has not enough time to think about all the roles he wants to play. Below are the films Cha confidently revealed are his style of movies he so greatly enjoys watching.
1. "The Stray Dog" | 1949 Director: Akira Kurosawa
"Toshiro Mifune, who has appeared in many of director Akira Kurosawa's films including "Rashomon" and "Seven Samurai," looked so cool in the roles. I am in awe everytime I watch "The Stray Dog," wondering how someone could think is such a way during those times and create such a film. To think that such a sensational film was created during the hard times. Of course, there is probably a less tension compared to the movies made nowadays. But for a film made in the 1940s, the composition of the movie is very fast and sensational!"
Amatuer detective Murakami (Toshiro Mifune) is in search of his missing gun that was stolen and used for murder. He becomes a real detective as he teams up with another experienced detective to solve the case. The movie also revolves around the relationship of the detectives which takes place in post-war Tokyo. "The Stray Dog" not only focuses on solving the murder but also emphasizes the tragedy of the post-war generation, human nature, and the extensively broad sense of guilt.
2. "Suspicion" | 1941 Director: Alfred Hitchcock
"I love director Alfred Hitchcock. He is too funny for someone who is called the master of thriller films. And maybe that's why but the acting in his films is also very exaggerated. When a character gets scared, his facial expression shows that he gets extremely scared. (laugh) So even though the movie is a thriller, you can't help laughing at some of the scenes. In the movie "Suspicion" in particular, the incidents which occur due to the main female character being suspicious that her husband is a murderer, are extremely funny. You can also tell immediately that all Hitchcock films are made on a set. I like that because that's what makes a film more cinematic."
The charming womanizer John (Cary Grant) and his wife Lina (Joan Fontaine) are barely past their honeymoon stage when Lina finds out about John's true identity. She finds out that John leads an extravagant lifestyle which he cannot afford, bets on horse races and habitually lies to Lina. She soon becomes very uneasy about John and believes that he plans on killing her. Every action that he makes, she believes is in order to kill her. The Hitchcock film does not focus on who the killer is but rather quite intricately and elaborately details the thinking process of a wife who becomes suspicious of her husband.
3. "Le Cercle Rouge" | 1970 Director: Jean-Pierre Melville
"Director Jean-Pierre Melville looks like someone who would direct a film noir. I saw him do an interview once and wow, he was smoking a cigarette during it. (laugh) I haven't done any film noirs yet, but for a male actor it is more special to act in a film noir than a martial arts movie. I really like French film noirs in particular. They are less exaggerated but have an elegance to them. And the actors' costume is great. In the movie, actor Alain Delon comes out wearing a nice black coat, which he looked really great in. I wish I can age just like him. (laugh)."
The movie starts with a Buddha saying that it is inevitable that people meet again someday. A film noir and Buddhist scripture may not look like they go together at first glance, but the title read "The Red Circle" in English is proof that this is no ordinary police-chases-criminal film. The heist consists of jewels stolen separately by the characters played by Alain Delon, Gian Maria Volonte and Yves Montand -- a sight which fills up the screen with manly charisma. Currently, the master of Hong Kong film noir is remaking the film with the main lead actor as Chow Yun-Fat.
4. "Death Proof" | 2007 Director: Quentin Tarantino
"I love films by Quentin Tarantino and Robert Rodriguez and I hope to shoot a movie just like theirs. It may not be the type of movie that everyone likes but this is exactly the kind of movie that I like. The last scene in particular was very satisfying. But more than anything, Kurt Russell was the most memorable. There is this scene where he gets assaulted by women and when he tries to clean his cuts with alcohol, he acts like such a baby. (laughs). I really want to try playing that sort of role."
Quentin Tarantino has much affection for this film. It was originally a three hour-long double-feature omnibus film titled "Grindhouse" containing four fake trailers but in Korea, was released as two separate films titled "Death Proof" and "Planet Terror". Kurt Russell plays a stuntman who feels pleasure out of killing women with his car but meets his match when he meets fellow stuntwoman played by Zoe Bell. Even though some scenes are brutal to the extent they are hard to watch, its gratifying ending gets the viewer's adrenaline pumping faster and faster.
5. "Sin City" | 2005 Director: Frank Miller, Robert Rodriguez, Quentin Tarantino
"I enjoy movies are that very cinematic. "Sin City" is artificial to the extent that is gives you the feeling that you are hallucinating. The reason I shot film "Secret" this time is also because the scenario had quite an artificial feeling to it. I also feel that those roles suit me the best. People don't see me as someone who appears in everyday life, even when I play those roles (laugh). I guess my face has changed too since I like cinematic films so much. I would like to be a part of a fantasy movie too someday. Something completely off from reality... for example, like the role of Willy Wonka from "Charlie and the Chocolate Factory". (laugh)
Gotham City is very peaceful compared to Sin City. In Sin City, it is hard to differentiate between the cops and the criminals and kidnappings and murder are everyday occurences. But the minimal amount of justice which has yet to die out, starts struggling against the evil. The cast is composed of Hollywood's A-listers including Bruce Willis, Josh Hartnett, Clive Owen and Jessica Alba but Mickey Rourke, who in quite a peculiar way manages to dull the boundary between his disguise and reality, leaves the most lasting impression on its viewers. It is amazing how director Frank Miller was able to do more than just copy the graphic novel but turn it into a movie.
Reporter : Lee Ji-Hye seven@10asia.co.kr
Photographer : Chae ki-won ten@10asia.co.kr
Editor : Lucia Hong luciahong@asiae.co.kr
<ⓒ10Asia All rights reserved>