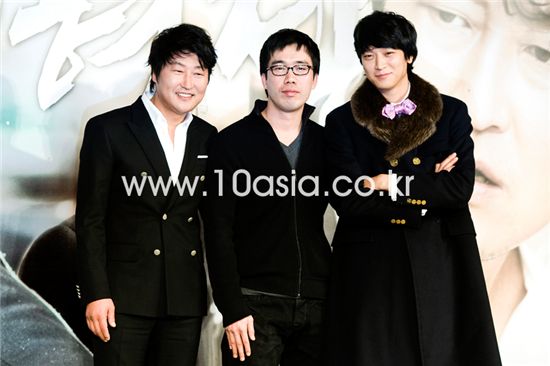 From left, actor Song Kang-ho, director Jung Hun and actor Gang Dong-won pose during a photo session of a press conference for film "Secret Reunion" held at the Plaza Hotel in Seoul, South Korea on January 5, 2010. [Lee Ji-hyuk/10Asia]
A former South Korean intelligence agency official and a North Korean spy sent to South Korea. In most films, such a setting would end as a tragedy or result in a clash of ideologies as was the case in films "Swiri" or "Joint Security Area (JSA)". These characters, who have been trained for the good of their country, will confront each other brutally or will have to face numerous conspiracies as was the case with the NSS agents in KBS TV series "Iris". But "Secret Reunion" is a film which seems to be set on providing a new form of enjoyment through its characters. Unlike its poster showing a resolutely determined Song Kang-ho and Gang Dong-won, a preview video revealed at a press conference for the film on Tuesday at the Plaza Hotel drew frequent bursts of laughter from the audience.
Lee Han-gyu (played by Song) who looks better as the owner of a detective agency than the national intelligence service from which he has been expelled, and North Korean spy Song Ji-won (played by Gang) who still flaunts his outstanding looks on screen despite the director's efforts to do his best to "make him not look like a model", start living together for different purposes. Lee employes Song to win a prize money given for catching spies and Song starts working at Lee's agency to make money to return to the North. Each character, both of whom have been ousted by their organizations, will try to use the other as a tool to reclaim their original positions but the wall between them starts collapsing. "Secret Reunion," which focused on the individual changes the two characters go through regardless of their different ideologies, is set for release on February 4. Below are excerpts from the press conference attended by Song, Gang and director Jung.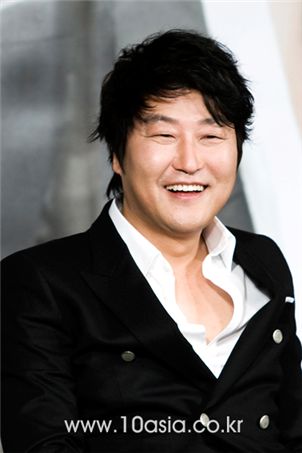 Actor Song Kang-ho [Lee Jin-hyuk/10Asia]
Q: What sort of film is "Secret Reunion"?
Jang Hun (Jang): A South Korean man in the National Intelligence Service meets with a North Korean man sent to the South as a spy. The film is about the two men who start out as enemies but change after seeing the humane sides to each other while living together.
Q: I'm curious to know why you took on this film which is Jang Hun's second only directorial pic.
Song Kang-ho (Song): I was surprised at how great of a movie he had made on such a small budget for "Rough Cut". I took on this film because I was deeply impressed by his directing skills where he expresses everything he wants to while not revealing his own sense of identity which new directors usually have a hard time concealing.
Q: Your image as actors are very different -- as different as your characters Lee Kyu-han and Song Ji-won in the film. How was it working with each other?
Song: I think Gang Dong-won is the most dazzling actor around right now. I had always thought he's a charming younger actor so I had been curious to find out what his personality was like. After working with him I found out he is sincere in many ways and quite unexpectedly, has a strong passion for his work. He smiles a lot too. So I think in those ways, he is very different how you see him on the outside. He was great in "WOOCHI" but you'll see a completely contrasting type of attractiveness in "Secret Reunion". I think this year will be his year. (laugh)
Gang Dong-won (Gang): I was very scared of Song. Not his personality but because he is such a great actor. (laugh) There were times when I would think he is terrifying. I've said this to director Jang before but Song is like a monster. He responds with animal-like instincts when he's acting which was very scary but also so great. I really learned a lot from him.
Q: Both Kim Yoon-suk from "WOOCHI" and Song are actors who drink a lot while working on films. Who made you drink more?
Gang: They are definitely not people who force you to drink. We drank about seven times a week while filming "Secret Reunion" (laugh) although never a lot. We would just talk a lot over a couple of drinks. Kim Yoon-suk would join us occasionally if I and Song were out drinking in Itaewon.
Song: Gang is young so he drinks pretty well. But he doesn't drink hardcore -- he just lasts for a long time. We usually get done early but he'll beg that we go for another round elsewhere. (laugh) But we're nothing compared to the cast and crew of "WOOCHI". They're heavy drinkers. I think Gang got trained there. (laugh)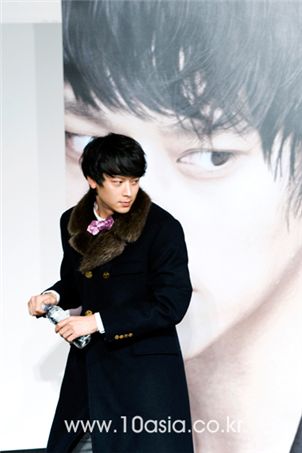 Actor Gang Dong-won [Lee Jin-hyuk/10Asia]
Q: You worked consecutively with South Korea's greatest actors Kim Yoon-suk and Song Kang-ho. What were the similarities or differences you felt while acting with them?
Gang: I don't think I'm in the position to comment on that... (laugh) But I did feel this with both of them -- that I felt more comfortable when I actually go into shoot with them. I think it's because I got the feeling that they were telling me, 'Do whatever and everything you want. I can deal with it."
We heard that you have plans to enter the military this year. Will "Secret Reunion" be the last film you work on before you do?
Gang: I have plans for another movie after "Secret Reunion" is released but I can't talk about it yet.
Q: In your previous film "Rough Cut," you were evident in showing the contrast between So Ji-sub and Kang Ji-hwan's characters image-wise by using different colors -- black and white -- to portray them. Did you use such techniques in this film too?
Jang: "Rough Cut" wasn't based on realistic, daily life so I set the characters apart visually by using those contrasting colors. But I wanted to give "Secret Reunion" the feeling that it's something happening around us in everyday life. That's why visually, the two characters don't seem too different. Although in Gang's case, I put in extra effort to make sure that he doesn't look like a model.
Q: Your previous film was also about two completely different men becoming like each other as they get to know more about the other person. "Secret Reunion" is also about two men. Is there a reason you keep going with the same format?
Jang: I just somehow ended up telling a story about two men again. It's not that I'm into plots involving two men -- I took on this film because the scenario was fun. I want to work with an actress next time. (laugh)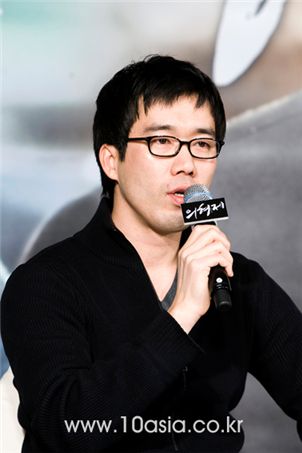 Director Jung Hun [Lee Jin-hyuk/10Asia]
Q: You worked with Song and Gang who are different in terms of both acting and star quality. How was it?
Jang: I didn't know I would get to work with them for the second film. But it was easier than I had expected to cast them. They both enjoyed reading the scenario so I got lucky in getting to work with them. And while in filming, I discovered aspects to them that were different from the thoughts I originally had of them. I had thought that Song was someone who had a humane, familiar and funny appeal to him but he turned out to be extremely intellectual when it comes to working on a film. And Gang is so good-looking and seemingly quiet so I thought it would be hard to communicate with him but it turned out that he talks a lot. (laugh) He said he became more talkative after shooting "WOOCHI" so thanks to that, I think I had an easier time working with him.
Q: If you could take away a strength from the other actor, what would it be?
Gang: Song's terrifying animal instincts? (laugh)
Song: I want to say looks (laugh) but there is something more attractive to him than that. Should I call it Gang's romantic sense of humor or values? I had never expected to see such sides to him but they are beautiful sides to him I discovered while working on this film with him. It's not easy to be a actor with such thoughts or values. I was very happy to see that he is someone who lives hard-heartedly and fiercely but also stands his ground.
Q: Any last words for the audience who will watch your film?
Jang: "Secret Reunion" is based on North and South Korea's relationship but it's not a serious movie. Whether the character is from the North or the South, the story is about their humane sides so I hope you focus on that and have fun watching it.
Song: I think this film will be a admirable film which will provide another form of enjoyment to the large number of Gang's fans. (laugh) We hope you like it.
Gang: "Secret Reunion" is a film which contains a variety of entertaining elements. I think it'll be fun if you focus on that since Song put on some great acting again. (laugh)
Reporter : Lee Ji-Hye seven@10asia.co.kr
Photographer : Lee Jin-hyuk eleven@10asia.co.kr
Editor : Jessica Kim jesskim@asiae.co.kr
<ⓒ10Asia All rights reserved>