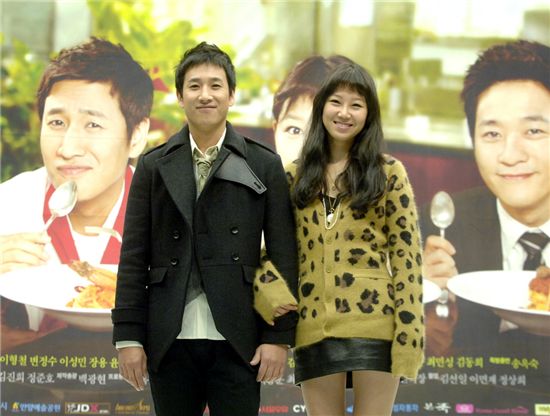 From left, MBC TV series main cast Lee Sun-kyun and Kong Hyo-jin pose during a press conference at the Marvelous convention hall in Seoul, South Korean on December 28, 2009. [MBC]
Briefly put, MBC TV series "Pasta" which premieres January 4, is about 'dating in the kitchen'. The romance between a boss who is divinely talented yet uses vulgar language while being disdainful to everyone and an employee who does not succumb to her boss' abusive treatment but rather bears with it to later succeed in both love and work, has been portrayed more than several times in various films and dramas. But the bar is raised higher when that story is depicted by actor Lee Sun-kyun, famous for playing mild-natured characters and actress Kong Hyo-jin who usually plays unique characters. A press conference was held on Monday attended by Lee who broke free from his past image by revealing his own style of acting in film "Paju" this year and Kong who has been expanding on her realm of acting through films such as "Blush and Crush' and "Sisters on the Road".
Q: You've played a lot of characters with gentle personalities up till now. Weren't you pressured by having to change your image 180 degrees in "Pasta"?
Lee Sun-kyun (Lee): I actually hadn't been pressured about having to change my image but I started thinking that maybe I should try something different because so many people started saying the same thing. The role Choi Hyun-wook that I played had a character different from the roles I had taken on in the past so I can't say that I wasn't worried or pressured but I believe that an actor expands on his realm of acting by taking on roles he is not used to, so it feels as if I'm taking on a good challenge. That's why I'm always screaming with happiness on set these days. (laugh)
Q: You said your character is finicky to the extent that he is nutty. What did you focus on in trying to portray him?
Lee: I went into shoot a week after I got the script and during that time I thought a lot about how I should express his character. It's easier to act out your role in dramas where you are given some time to get used to the drama and everything but I had a rough time the first couple of days with "Pasta" because I had to be sure of how I would portray my character upon going into shoot. That's why I talked a lot with producer Kwon Seok-jang and the single thing he showed me was a photograph of Joker from the movie "Dark Night" saved on his mobile phone. If finicky characters are usually those who stop scolding and getting angry after a while, Choi Hyun-wook is someone who keeps going until onlookers start wondering if he really has to go so far. I'm both curious and worried to see how my acting turns out.
Q: Are you able to relieve yourself of any stress through such acting?
Lee: With scenes in the kitchen, Choi usually gets mad at each person there so it's as if I'm fighting up against ten people alone. It drains me physically and so I'm never fully at ease on set. I think I've become more sensitive while working on this drama because I know that if I make mistakes, it will only prolong the shoots.
Q: What is the real Lee Sun-kyun like on set?
Kong Hyo-jin (Kong): He is not as gentle and sweet as I expected him to be. (laugh) I'm usually very friendly but I was only able to say a mere 'hello' to him on set for the first two weeks because we did so many scenes where I get scolded by him. But I like it because he's more manly than I expected him to be, he's funny and also very encouraging as the eldest on set.
Q: You're returning to the small screen for the first time in two years with MBC TV series "Thank You" being your last drama. Why did you choose to take on "Pasta"?
Kong: I'd been looking into a lot of scripts but it had been hard to find a drama of my taste. "Pasta" seemed not just like a fun drama but I liked my character Seo Yoo-kyung's personality because she seemed to be candid. She is someone whom people will support because they will feel sympathy for her while delivering a sense of achievement or courage to viewers by showing the process of how she changes in the end. I liked the drama because it's not just about the main characters' living happily ever after but also about them fighting for something and achieving something as human beings.
Q: You said you took on movie "Crush and Blush" because you wanted to win an award. What do you want to gain from "Pasta"?(laugh)
Kong: Oh, it wasn't entirely for that reason with "Crush and Blush"... But it's true (laugh) and with "Pasta", I hope it sees good ratings. (laugh)
Q: There's only a week left before it premieres. How is the atmosphere on set these days?
Kong: We pull allnighters everyday. It's very rare to shoot a single scene 160 times but we did that with the kitchen scene you saw in the video clip earlier today. An actual chef is on set with us and he keeps an eye on how we cook. My character Seo Yoo-kyung was a chef's assistant for three years so she is supposed to be very good at splitting live lobsters into half or handling food products... Those scenes were more difficult than the scenes where I cook.
Q: Did you refer to cooking-related reality programs like "Hell's Kitchen" or "Yes Chef"?
Lee: Both the actors and producers watched those shows a lot.
Kong: We watched those for reference for our attire and to see what it's like in the kitchen when it's busy or to have a scary chef.
Q: You said you practiced making pasta a lot because you had to play the role of a genius chef. Did you have your family try the pasta you made for practice?
Lee: I practiced whenever I could because I thought I should put in as much effort I do into scolding others on set while playing the role of chef. I've become used to how the kitchen works now because I spend so much time there and I've also become quite close with the people in the kitchen so I'm hoping to receive some perks when I visit them from now on. (laugh) After giving birth, my wife had stayed at a postnatal care center right next to the restaurant where we shot our drama so I always gave her the pasta I had practiced making. I think she ate it well because she doesn't know too much about pasta. (laugh)
Q: Which pasta do you think you cook the best?
Lee: I actually didn't eat pasta that much before and didn't really enjoy it either but I now know what is good and how to make it after shooting this drama. I like light, clean flavors so I enjoy eating Ali Olio which contains garlic and olive oil. The recipe is simple but I think its a very delicate dish to create.
Q: "Pasta" is airing after "Queen Seon-deok" -- a drama which topped TV ratings charts for over half a year. Do you feel any pressure from this?
Kong: I think it's actually better because MBC usually does well with its Monday and Tuesday dramas and I think we'll be able to carry on the mood from "Seon-deok". I am a bit worried though because there are some new dramas which had been delaying their premiere until "Seon-deok" ends.
Lee: We receive a lot of similar questions but I don't know why we should feel pressured. I actually think we're up against fair competition because three dramas will all premiere on the same day.
Q: Is there a particular reason viewers should tune into "Pasta"?
Lee: I think the dramas on other channels will also be fun. Each drama has a unique style of its own so viewers should watch them according to their taste. Kong said she liked "Pasta" because it isn't too cheerful but I like it because I thought it was. The story progresses quickly, it's cheerful and its romance line is also delightful so it makes it a fun drama.
Kong: There are dramas which force the main characters to simply become romantically involved but I like "Pasta" because it has a clear story at its core. I said i liked it because it's not all rosy but I think it's increasingly becoming cheerful drama. (laugh)
Q: Then how do you expect the ratings to do?
Lee: Around 18 percent with hot response from netizens? (laugh) It would be great if we can pass ratings of 30 or 40 percent but there's the danger of my image becoming fixed. The ratings for MBC's "White Tower" and "Coffee Prince" weren't as high compared to the sensation they became.
Kong: I'm fine with my image becoming fixed so I'll say 30 percent. (laugh)
Reporter : Choi Ji-Eun five@10asia.co.kr
Editor : Jessica Kim jesskim@asiae.co.kr, Lee Ji-Hye seven@10asia.co.kr
<ⓒ10Asia All rights reserved>