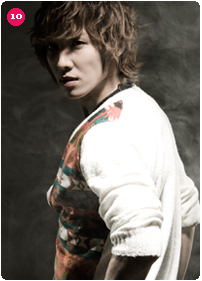 MBLAQ member Lee Joon [Lee Jin-hyuk/10Asia]
My name is
Lee Joon. My real name is Lee Chang-sun.
I was born on February 7, 1988.
My birthday is early in the year so I'm friends with Seung Ho and G.O.
Having to practice all night everyday is hard
but it's okay because I've gotten used to it. Everyone goes through hard times in their life. I'll fall asleep at the hair salon and wake up to find that my make-up has been done. Hahaha.
I'm naturally slim
so there wasn't anything in particular that I wasn't allowed to eat while filming "Ninja Assassin" apart from oily food. So when I went to the restaurant with Rain, he'd order a whole bunch of food for me and tell me to eat one food after the other. He'd watch me eat that food while he himself would just eat peanuts. There were many times I felt awful because I was full but couldn't stop until I finished everything.
The physical training I underwent ahead of shooting the movie was grueling.
But I'm disappointed that my body didn't look so good in the parts I appeared in. I had cried while receiving training because it was so tough. And I've been so busy after my debut that I still haven't been able to go to the theater to watch the film itself. I envy my fans who leave comments saying they watched it several times. And I don't even remember the whole story properly anymore.
Acting is my life.
I want to pursue it without taking any breaks. And I want to keep looking at scripts. I actually had been a bit proud because my acting debut was in a Hollywood film. And after that, I'd been preparing to shoot a war film with other actors my age but it got cancelled after I had become familiar with the script. I was sad but I believe there are things I learn from the process of preparing for it.
I majored in dance at Korea National University of Arts.
I had originally wanted to major in drama but I heard you can't get in if your academic grades are very bad so I looked for another major. That's when I came across a video of dancer-turned-actor Lee Yong-woo of when he won a dance competition. I'd always thought that guy dancers would wear tights and would look feminine but he looked very charismatic with a buzz cut and his great outfit so I took up dancing during my final year of middle school.
I actually have very short arms.
They're shorter than female arms too. It's important to have long arms to dance so I extend the muscles in my shoulders to elongate my arms although I think it still shows. And I've been told to fix the dancing for our group's choreography because they say it looks too much like artistic dance. I'm always tensed up when I'm dancing.
My voice is still in bad condition after having been sick with the influenza flu.
I keep coughing when I talk or sing. And I have to keep smiling in a cute way when singing "G.O.O.D Luv" so much that my facial muscles hurt. Seung Ho is having a really hard time with it because he has to keep smiling when he's actually quite reserved and quiet. People often say that I'm clumsy but I'm not. I'm definitely not that type at all. Oh, there's something on my mouth? It must be from the cookies I ate earlier. Haha.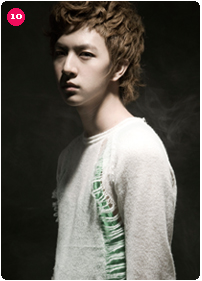 MBLAQ member Cheon Dung [Lee Jin-hyuk/10Asia]
My name is
Cheon Dung. My real name is Park Sang-hyun.
I was born on October 7, 1990.
People keep thinking I'm the youngest of the group! (Mir: You look the youngest!)
I came to Korea two years ago/
I was good at speaking Korean because everyone uses it at home. And I had never learned to write Korean but I could read and write it one day so I realized the mysterious appeal of language.
The thing I had the hardest time adjusting to in Korea
was the cold weather! The Philippines is warm all year round so I don't have to turn on the air conditioner in Korea in adequately hot weather. But I have such a hard time with the cold. I still like the snow though. I've always dreamed of seeing a white Christmas so I hope it'll snow this year and I'll get to eat steak with my family.
I really like meat.
Everyone else likes Korean food a lot so I don't get to eat it as often now but one day, when we all become successful both as a group and in our individual careers, I'm going to eat meat everyday. The pathetic thing about me is that I don't know how to cook meat. I actually don't know how to cook at all so I can't even set the right amount of water for cooking ramen. I only recently learned how to cook cup noodles.
I'm usually quiet but I've become much more talkative after becoming a member of MBLAQ.
I like that feeling you get when you just sit without talking. I get sort of a peaceful feeling when I just listen quietly to everyone talking.
My sister Sandara has praised me since I was young
saying that I'm good looking and tall. My sister is just like that -- she's good to my younger sister and the whole family. I also met my seniors in boy band 2PM in person before and Nichkhun was so good looking. Then I was once on a plane to Japan when a lady said hi to me thinking I was Nichkhun. I felt so happy at that moment. She then looked and Mir and thought he was Hong-ki [from FT Island]. But she looked so serious that we couldn't tell her that we were MBLAQ so we just smiled.
My hairstyle changed as our song changed
and it was my idea. I wanted to give off the vibe of Justin Timberlake from his N'Sync days. I look a bit different now because my hair grew out a bit but Rain told me not to cut it so I've left it. The cheek blush wasn't my idea.
I personally liked my outfit for "Oh Yeah".
I'm someone who looks nowhere close to sexy but I looked kind of different with my clothes ripped up at least.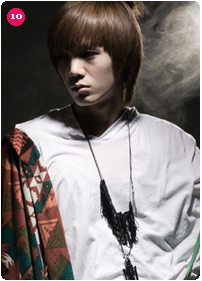 MBLAQ member Mir [Lee Jin-hyuk/10Asia]
My name is
Mir. I revealed my real name on air. That it's Bang Chul-yong! Hahaha. But Rain calls us by our real names. Byung-hee and Chul-yong. I like it better because it sounds more friendly.
I was born on March 10, 1991.
I entered school a year earlier than everyone.
My brother-in-law is the CEO of my agency.
But I hadn't known it in the beginning. I had been thinking he was a normal businessman when he came up to me one day and asked me if I knew who Rain was. Who wouldn't? He's Rain! I talked to him for several days, thought about it hard, and became a trainee on the premise that I would be cut immediately if I didn't do well. I really felt honored. I had always wondered what it would be like to practice under him but to think I became one of them!
I had a really hard time while I was a trainee
because when I go home, my family and the CEO would be looking at my monthly evaluation sheet and I would get scolded directly by the CEO. He used to be a brother-in-law who I used to hang out with and would buy me meals but now he's a CEO who never says a good word to me.
I have a dream to become a rapper.
I really like Tiger JK whom I got to meet at an awards ceremony. I really felt proud and honored to meet him as someone with the same job as him. Of course, I'm not on the same level as him yet. I've always liked the artists with Movement and rappers like MC Sniper. I also liked rappers such as Supreme Team and Dokki so much that I met with them to ask them to teach me how to rap.
I receive a lot of advice from my team members
for coming up with the ending for "G.O.O.D Luv". Last Sunday's was G.O's idea.
G.O. is the one who is in charge of summing up what we say.
He's good at pointing out the essence of what we say. And Joon is the one who gets the most easily excited.
I really did farming before debuting.
I went to a middle school which had farming machine in the playground. It's cold right now so it's time to take good care of the black goats and carry out maintenance of the farming machine. It's also time to request for machine parts. Working on a farm is sometimes more difficult than practicing our dance moves and singing. It's so hard picking peppers and apples. I sometimes feel bad because I know the farming schedule. To think that my dad will be doing everything alone. I should be helping my dad because things like crop-dusting is very hard to do alone.
Reporter : Yoon Hee-Seong nine@10asia.co.kr
Photographer : Lee Jin-hyuk eleven@10asia.co.kr
Editor : Jessica Kim jesskim@asiae.co.kr, Lee Ji-Hye seven@10asia.co.kr
<ⓒ10Asia All rights reserved>