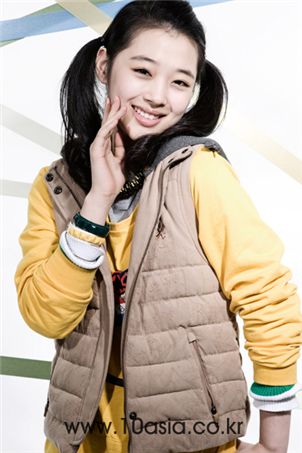 f(x) member Sulli [Lee Jin-hyuk/10Asia]
My name is
Sulli. My real name is Choi Jin-ri.
I was born on March 29, 1994
I have two brothers -- one is four years older and the other a year older. That's why I often hear people telling me that I act cute but I've actually become more of a boy now growing up with them!
My oldest brother is serving in the army right now
but our popularity in the army is good so he says he's having an easy time. I've given him a lot of my autographs so far but I guess I should give him much more. Haha.
I appeared in SBS TV series "Seo Dong Yo" when I was twelve
but I sang and danced too. Just like there is a difference in the joy between movies and dramas, there's also a different joy to meeting with the public on stage as a singer.
The reason I'm always smiling on stage
is also because I'm having fun. I just start laughing after thinking of the meaning to our lyrics. My laugh isn't fake, really!
I'm in eighth grade right now
but I try to go to school as often as possible. So when we visited Kenya recently, I was enjoying it a lot but I had to return to Korea two days earlier than everyone else to take my exams. I was the only one taking exams while the rest of my group was teaching our "LA chA TA" dance to the kids in Kenya. And the results of the exam? Eh...
After I debuted, my friends
don't talk about "LA chA TA" but just call us 'function'. Or the men's channel on cable TV. Haha.
I first met Krystal
when I was much younger. Her sister Jessica introduced us to each other and told us to be good friends. I only got to say hi to her briefly back then but I knew we'd become good friends. Haha (Amber: They're like twins!)
Like Victoria
I too am scared of getting shots. I'm scared of needles going into my body. But I also have to see that needle go into my body so although my group told me not to, I held onto their hands and got the injection.
To fans who send me text messages
I tell them, "Don't wait for me. I'm a bad woman". But I didn't write it because I'm really a bad person! It was just for fun. Haha.
When we sing "Chu~♡"
I asked Victoria to do the 'Rocks, Paper, Scissors' with me. I wish we could change the choreography everyday.
Playing the guitar
is something I really want to learn to do. I want to sing on stage while playing the guitar and I hope that one day, we'll be able to hold our own concert like Girls' Generation. There are so many performances we want to put on for our fans!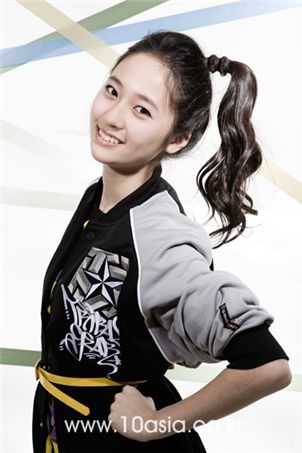 f(x) member Krystal [Lee Jin-hyuk/10Asia]
My name is
Krystal. Real name Jung Soo-jung.
I was born on October 24, 1994
Girls' Generation member Jessica is my sister. Her nickname used to be 'ice princess' but I think her ice has melted a lot these days. Haha.
I was at a department store when I was seven-years-old
and was cast by the agency. An official at the agency asked where my mother was, she saw my sister too and we were both cast together.
We are just like any other pair of sisters.
We used to fight at times when we were younger but we don't have time to meet anymore because we're both so busy after debuting. That's why we miss each other even more, we don't fight any more and we call up each other from time to time to ask how the other is doing.
Jessica looks a lot like my mom
and I resemble my dad but ever since I joined the agency, I've heard a lot of people tell me that I look like Girls' Generation members Yoona or Yuri. (Amber: I once left the building of the agency with Krystal and fans who had been waiting outside started screaming "Yoona! Dong-hae!" so we ran away.)
I like playing sports and have a lively personality
but I sometimes get a bit shy. I've been scared of meeting new people since I was young. But I've been close friends with Sulli from the start. Haha. I thought Amber was a cool guy when I first saw her and Luna seemed cold at first sight but she turned out to be an extremely warm-hearted person. And with Victoria, we didn't open up to each other in the beginning but became good friends while taking a class that only the two of us take.
Yoona
takes really good care of me after hearing that we look alike so many times. She says I'm her fake sister.
The first showcase
was mind-boggling. We changed our clothes a lot because we were putting on several performances, we were in a panic, (Victoria: I put on the wrong clothes and I just stood there not being able to say anything but "Ahhhhh")
The reason I started following the dance to "Ring Ding Dong" at SBS music show "Inkigayo"
was because I had been practicing it for fun but I didn't know I would get to actually do it on stage. Even I myself wondered why I was doing the dance. We're promoting our albums at the same time as SHINee so they take very good care of us. There isn't too much of an age gap between me and Tae-min, and I'm thankful for Key mentioning us on stage.
I like Corinne Bailey Rae's music
and want to learn how to play instruments like the piano, guitar and violin so I can sing while I'm playing them. I lived in San Francisco since I was in fourth grade and a lot of people there perform on the streets. It's my dream to do that too someday.
Reporter : Choi Ji-Eun five@10asia.co.kr
Photographer : Lee Jin-hyuk eleven@10asia.co.kr
Editor : Jessica Kim jesskim@asiae.co.kr, Jang Kyung-Jin three@10asia.co.kr
<ⓒ10Asia All rights reserved>