Press conference for KBS TV series "Invincible Lee Pyung Kang"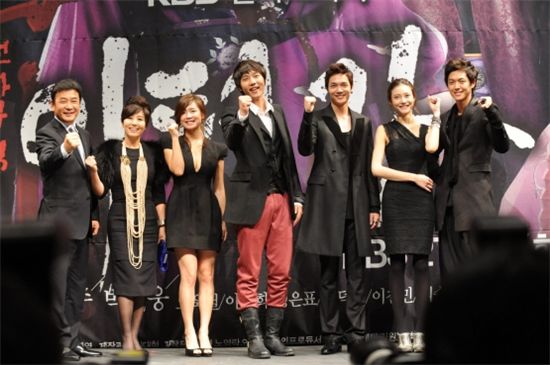 The cast of "Invincible Lee Pyung Kang" [KBS]
The princess in TV series "Princess Returns" lost to Princess Deok-man in "Queen Seon-deok." And now another princess has arrived. A press conference held at Seoul's CGV multiplex on November 4 announced the making of another princess story -- the new KBS TV series "Invincible Lee Pyung Kang". Unlike "Princess Returns", which was really about 40-something housewives, "Pyung Kang" is about the actual Princess Pyung Kang. The basic plot of the drama is that two people, who were together as Pyung Kang and Ondal 1400 years ago, are re-incarnated and meet again as lovers in modern times. Director Lee Jung-sub, who has already attempted fusing traditional drama with modern twist in 2008 TV series "Hong Gil-dong", shared his view on making the new show. "The story that we know about Ondal and Pyung Kang are just two pages on historical documents. I wanted to add more imagination to this story and create a new traditional drama. I thought about making a mix of modern and traditional drama like the movie 'The Gingko Bed'".
A trendy drama about Princess Pyung Kang and Ondal the Fool
Just as director Lee said, the story of "Pyung Kang" revealed at the press conference was one that went back and forth between the past and the present. Ondal and Pyung Kang, who fought like cats and dogs in their former life, meet as enemies in the modern era. Pyung Kang's wicked stepmother Empress Je (played by Choi Myung-gil) has re-incarnated as the second wife of Woo Ondal's father Woo Pyong-won (played by Gil Yong-woo). But we will need to see if "Invincible" is anything like the film "Gingko Bed". Most of what has been unveiled about "Invincible" is a comedy surrounding the lead actors Nam Sang-mi and Ji Hyun-woo, and the story of golf player Woo Ondal and Lee Pyung Kang, whose father designed the golf course at Woo Pyung-won's resort, teaming up to save the financially struggling resort. Another character in the drama is Edward (played by Seo Do-young), a good-hearted helper to Lee Pyung Kang. "Invincible" premieres on tonight at 9:55 p.m.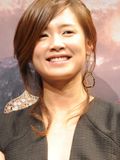 The tough Princess Pyung Kang -- Lee Pyung Kang (played by Nam Sang-mi)
A woman full of vitality and joy. Actress Nam Sang-mi has already shown that she is good at playing such characters in her previous works such as SBS dramas "Bad Family" and "Gourmet". Her character in "Invincible" is pretty much similar to her previous roles. Save for the unique setup as a reincarnation of Princess Pyung Kang, she is still a cheerful character who works hard to support the family. The comedy acting, such as in fighting scenes with Woo Ondal, is likely to appear more frequently than it did in "Family Ties". The actress said at the press conference, "I fight a lot with Ji Hyun-woo and I love that he doesn't shy away from taking all of my punches. The atmosphere is so great on set and I have high expectations for the drama." (laugh)
From Ondal the Fool to conglomerate heir -- Woo Ondal (played by Ji Hyun-woo)
1400 years and a reincarnation later, the tables have turned completely for Ondal and Princess Pyung Kang. While Lee Pyung Kang goes through all kinds of trouble to support her family, Woo Ondal lives as heir to an enormous resort owner and has a celebrity girlfriend. This could be a slightly different character for actor Ji Hyun-woo, who has usually played the part of a soft-hearted younger boyfriend in TV dramas. A series of accidents brings him together with Lee Pyung Kang. "When you first see it, you might think I've taken on a weird character. I met director Lee when he was the producer on [his previous TV drama] "My Precious Child" and I have wanted to work with him since."
The top star who will always love Ondal -- Kwan Ja Rak (played by Cha Ye-ryun)
In reality, the real Princess Pyung Kang may be Kwan Ja Rak, not Lee Pyung Kang. Kwan, one of the biggest stars in Korea, falls in love with Woo Ondal at a young age and continues to have feelings for him, even as he gets on the wrong track after his mother's death. This is quite different from a typical trendy drama, in terms of such female character's personality. "The atmosphere on set is so great that I feel like I'm going on a trip, not work. I can't give you the exact details yet, but I think she's a fantastic character."
Lee Pyung Kang's helper Mr. Tall Guy -- Edward (played by Seo Do-young)
"I think everybody has fantasies about characters like Mr. Tall Guy," explained actor Seo Do-young about his character. Like he said, Edward is a custom-made character for the female lead part, the typical Mr. Tall Guy. He starts having feelings for Lee Pyung Kang after finding out that her father is the famous golf-course architect that he had long admired, and gradually falls more in love with her. But his love is highly likely to be one-sided, just like Kwan Ja Rak's love for Ondal. However, the viewers may fall in love with Mr. Tall Guy's character.
What to Watch
The host at the press conference asked the cast members how high a rating they were expecting for the first episode. The question on everyone's mind is, can "Invincible" fare well in the same time slot with the reigning "Queen Seon-deok"? How many viewers will a comedic, fusion traditional drama be able to attract? If the ratings for the premiere episode clocks in around 15 percent, as Nam Sang-mi hopes, then this drama will have lived up to its title "Invincible".
Senior Reporter : Kang Myoung-Seok two@10asia.co.kr
Editor : Lynn Kim lynn2878@asiae.co.kr, Jang Kyung-Jin three@10asia.co.kr
<ⓒ10Asia All rights reserved>