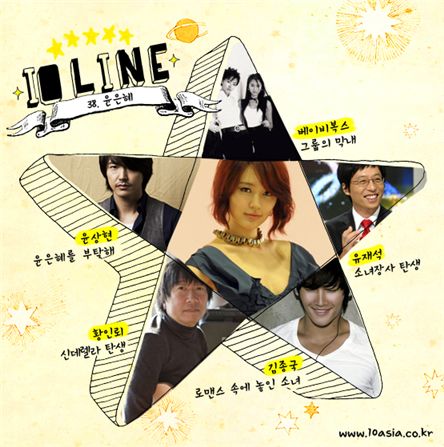 Yoon Eun-hye, in center, and from top clockwise, group Baby V.O.X., TV show emcee Yoo Jae-seok, singer Kim Jong-kook, TV series "Goong" director Hwang In-roe and "My Fair Lady" co-star Yoon Sang-hyun. [10Asia]
Yoon Eun-hye
She was the youngest of a pop group. The female version of Hercules on TV shows. The talk of the town with just one hit TV show. She became a top star who made every drama she starred in become a success. And from that top star position, she has become a "Fair Lady" who would lead yet another TV series. What can this TV star, who lives a life dream-come-true, show us from
dramatic drama star show us at pinnacle?
Ryu Hyun-kyung
TV actress. Appeared with Yoon in a snack commercial at the beginning of Yoon's career. After getting picked up on the street and becoming a celebrity, Yoon worked as a magazine model and joined pop group Baby V.O.X.
Baby V.O.X.
The pop group with whom Yoon started her career as an entertainer. From the third album of Baby V.O.X., Yoon starts working as the youngest, at age 15, member of the group. The president of the agency for the group cast her because, "I didn't really like her singing at the audition, but she was frustrated with her own mistake and punched her fist on the wall". Yoon's parents also told her to choose between art, which Yoon was studying, and Baby V.O.X. activities. Yoon cried all day and chose Baby V.O.X. because she thought "there would be time to do art as a hobby". Yoon "was so busy during the five years after debut that [she doesn't] remember", and when things got hard, she cried under the sheets to avoid her parents finding out. Also, Yoon says that she is used to "knowing the situation wherever she is, and being responsible for her own staff" because she started working in the entertainment industry since she was young.
Yoo Jae-seok
The MC on whom Yoon had a crush since she was a little girl. OF course, this is the storyline of "XMan" from "Happy Sunday". Being the "youngest and underage" member of the sexy Baby V.O.X., Yoon didn't have a chance to appeal to the public. It was on "XMan" that Yoon started to have her own character. On "XMan", she drew attention with the "girl Hercules who beat Kang Ho-dong (Korea's top traditional wrestler turned MC)" character and became the center of attention with the romantic storyline with Yoo. With her girlish image, Yoon was a good player to easily cook up a romance with any celebrity and naturally started to get noticed with her on-screen romance with Yoo. The "girlish romance" was her forte even then. Also, Yoon is very athletic; when learning how to box for the film "Escaping from Charisma", she learned in two hours what would normally take a week to learn and was offered by her coach to take up boxing professionally.
Kim Jong-kook
A singer who had an up-and-down romance with Yoon on "XMan". When Yoon gave a caramel to Eric of Shinwha and not Yoo Jae-sook, and started a new romance, Kim took all means possible to become a couple with teammate Yoon. Their romance brought on five other Korean celebrities and became the biggest and longest storyline of "XMan". It is Yoon's central image, from "XMan" to MBC's "The First Shop of Coffee Prince", where an innocent girl(woman) experiences an unexpected romance, becomes the center of a story, and presents an immersion into the real-like romance. Later appearing in Kim's music video "Saying I Love You", Yoon was rumored to be in an off-screen romance with Kim. However, for a few years and as recently as during her "Happy Together"(KBS) appearance, Yoon has denied the rumor saying, "(When the rumor with Kim started) My mother liked that I was on the front page".
Hwang In-roe
Director of MBC drama "Goong". Cast Yoon who at the time had no acting credit. Hwang had considered Yoon for the part of Hyo-rin, but upon hearing that, like the character Chae-kyung, she "has a brother and likes to draw" and seeing her eat dinner with her legs crossed at their first meeting, he cast Yoon as Chae-kyung. Casting a singer with no acting experience as the star of a TV drama, controversy was inevitable. At the time, Yoon posted a message on her online homepage "If I do it, I will do my best for the people who supported to me. If I don't do it, I will come to you with different work, so please don't fight." Even now, she is self-conscious that she never took acting lessons, saying "I've never learned acting so my co-actor may be afraid of that. But I think I instantly react to things". Drama "Goong" was a huge success despite controversy.
Park Man-young
Director of KBS drama "The Vineyard Man". As in "Goong", Yoon suffered from acting controversy at the beginning of the show's airing. However, the show, along with "Joo Mong"(MBC) recorded the highest viewership rating among KBS dramas for its assigned time slot. Without doubt, Yoon has a disadvantage in vocal acting. Her pronunciation is inaccurate, her vocalization unstable, and speaks all her lines, regardless of its emotional state, with a similar tone. But Yoon has a gift in making female viewers immerse themselves into a romance that they dream of. Just as director Park has said, that Yoon "cannot act when I tell her to act. But when I told her to talk about dream and love of a twenty-something single woman, she did that naturally" Yoon takes in the stories from the perspective of an ordinary woman in her twenties. And "Goong", "The Vineyard Man", and "The 1st Shop of Coffee Prince" were all based on a popular, original story and take place at a certain space. Yoon appears in work that female viewers adore, and makes their fantasy romance in a certain place "real". The "girl Hercules" who one day became a real Cindrella, or the birth of an "icon of romance".
Seo In-young
Member of pop group Jewelry. Known as one of Yoon's closest celebrity friends. When Seo was doing "10,000 won Happiness" in "Happiness, Inc."(MBC), she served Yoon with a "1,000 won supper". Yoon has said that she doesn't have many friends because she started working early, and that she "only remembers sleeping because [I was] so tired". And when she was caught up in controversy after being cast in "Goong", she said "it's been 8 years since I debuted in the entertainment industry. If I take all the ups and downs, I wouldn't last long". And when the "Que Sera, Sera" deal, which she wanted, fell apart due to conflict with her agency, she was disappointed. Working a celebrity since early age, she gained, lost and hurt a lot. But Yoon has once said, "I still get hurt while working, but I think I get a little bit harder".
Lee Yoon-jung
Director of "The 1st Shop of Coffee Prince". "Coffe Prince", which Yoon says she filmed with "flutters like we were decorating a classroom on our own with no teacher", is the zenith of Yoon's career as an actor. After doing "Coffee Prince", she has been able to enjoy acting and made up for lacking techniques in her own way. Yoon is pretty but doesn't wear expensive clothes because she "doesn't have the eye for it and is a straight shooter". Rather than showing a pretty side as an actress, Yoon remained faithful to her character, as a woman pretending to be a man, and Lee complimented, "An actress would want to look pretty but she kept to the end". When she selects pieces, she "considers whether she can substitute herself into the character and act". That selection method and getting the most appropriate parts for her acting style has brought the best results. Here in the drama, she is down-to-earth enough to portray a woman pretending to be a man. But after one diet, displaying a Barbie-like figure in commercials and fashion editorials, Yoon has become a fantasy or a role model for some women. This is the moment when Yoon, who used to say "I was running away and nobody knew I wanted to run away", started enjoying her work.
Yoon Sang-hyun
Yoon's co-star in KBS drama "My Fair Lady". Even before it aired, the drama drew attention over the casting of Yoon Eun-hye and Yoon Sang-hyun and hit the highest rating for its time slot from the first episode. But controversy over Yoon's acting is sparking up again. But the problem facing Yoon may not be her pronunciation or vocalization but how she convinces viewers of her changed circumstances and character. The newbie actor, whose casting became a controversy, has become a top star. And her on-screen character has too changed from an ordinary girl into the "Fair Lady" of a rich family. If her previous characters induced natural immersion from ordinary women, Hyena in "My Fair Lady" shows viewers a character that they have not experienced. Yoon has to express this character not with her experience but with imagination. Here, she has to break the emotional limitations and not act in a similar tone, in ordinary circumstances and when she leaves a will thinking she is kidnapped. The current Yoon Eun-hye is too famous and too pretty to just be the Cinderella of romance. When a commoner-turned-queen becomes a wealthy fair lady, can Yoon show more width and more diversity?
Senior Reporter : Kang Myoung-Seok
Editor : Lynn Kim lynn2878@asiae.co.kr, Lee Ji-Hye
<ⓒ10Asia All rights reserved>